Dirty Dancing 2: Havanna Nights, 2004
Released in 2004, "Dirty Dancing 2: Havana Nights" is a romantic drama film that explores the fascinating world of Cuban dance and music. Set in Havana, the movie follows the story of two young people who fall in love amidst the political and social upheaval of the late 1950s. Here's a closer look at this vibrant and entertaining movie:
News
Movies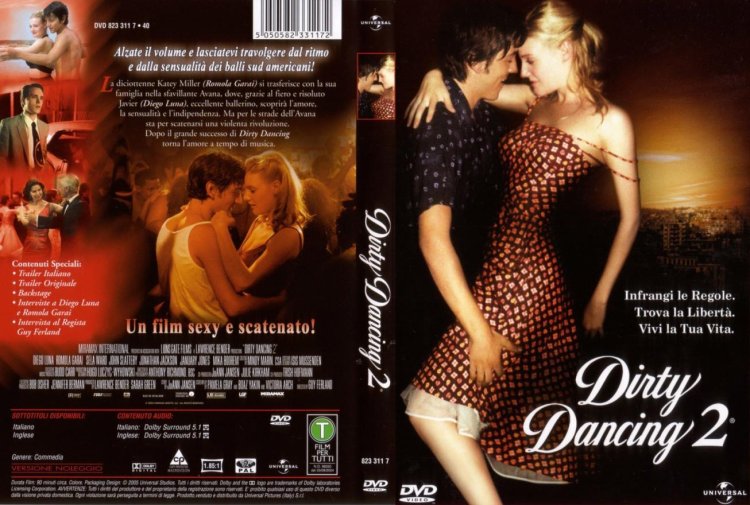 Photo Credits: Filmaffinity
The Plot
The story of "Dirty Dancing 2: Havana Nights" centers around Katey Miller (Romola Garai), a teenage girl who moves to Cuba with her family in 1958. There, she meets a local waiter, Javier Suarez (Diego Luna), who introduces her to the world of Cuban music and dance. Despite their different backgrounds, the two quickly become close and fall in love. However, their relationship is tested by the political turmoil and social upheaval that grips the country, and they must fight to stay together in the face of adversity.
The Cast
The movie stars Romola Garai and Diego Luna as the lead characters, Katey Miller and Javier Suarez, respectively. Garai delivers a strong performance as the determined and independent Katey, while Luna brings charisma and charm to the role of the passionate dancer. The supporting cast includes Sela Ward as Katey's mother, Mya Harrison as Katey's friend, and Patrick Swayze in a cameo appearance as a dance instructor.
The Music
One of the highlights of "Dirty Dancing 2: Havana Nights" is its music, which features a mix of classic Cuban songs and contemporary Latin beats. The soundtrack includes tracks by artists such as Santana, Celia Cruz, and Yerba Buena, and captures the energy and excitement of Cuban music and dance.
The Dance
Of course, no movie about dance would be complete without some impressive choreography, and "Dirty Dancing 2: Havana Nights" delivers on this front as well. The movie features a range of dance styles, including salsa, cha-cha, and rumba, and showcases the talent of its lead actors as well as the skilled dancers who perform in the background.
Also Check Kim Kardashian harassed, details of her attacker's arrest emerged
The Setting
Beyond the dance and music, "Dirty Dancing 2: Havana Nights" is also notable for its vivid portrayal of Havana in the late 1950s. The movie captures the beauty and vibrancy of the city, as well as the tension and uncertainty that permeated Cuban society at the time.
In conclusion, "Dirty Dancing 2: Havana Nights" is an entertaining and engaging movie that offers a glimpse into the world of Cuban music and dance. With its strong performances, lively music, and impressive choreography, the movie is sure to captivate audiences and leave them with a greater appreciation for this rich and dynamic culture.