From a sweetheart to a seductress, but was this dress the right choice for Katie Holmes?
For an evening out in New York, Katie Holmes chose an unusual outfit under which she did not wear a bra, which ensured all the attention of the photographer.
News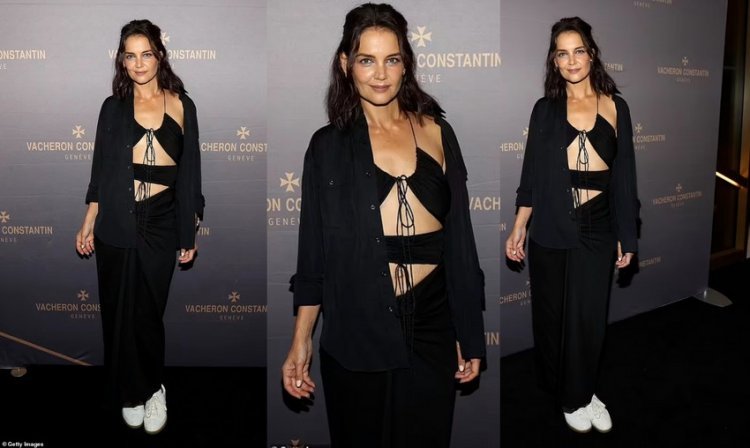 Photo Credits: Getty Images
American actress Katie Holmes was one of the guests at the opening of the luxury Swiss watch store in New York, and she chose a rather unusual and bold combination for the occasion.
Namely, 42-year-old Katie appeared in a dress with a plunging neckline, under which she obviously did not wear a bra, and she threw an oversized shirt over it. Thanks to that, she was one of the most conspicuous stars, and curious glances were directed in her direction.
Katie arrived at the event alone after breaking off a love affair with popular chef Emilio Vitolo Junior, who is nine years her junior.
The exact reason for the termination of their eight-month relationship is not known, but Emilio left his fiancée Rachel Emmons because of the Hollywood actress. And he did it with a message when his photos with Katie appeared in the media. Rachel found out about his adultery and was shocked because the couple lived together and they were preparing for the wedding.
Katie was, therefore, the target of criticism and public disapproval, and many were surprised by her behavior, given that she had previously been called a Hollywood sweetheart, and concluded that she would be better suited to the nickname of a fatal seductress and relationship destroyer.
Katie divorced Tom Cruise in 2012, with whom she has a 15-year-old daughter, Suri. After the divorce, Katie dated Tom's friend actor Jamie Foxx from 2013 to 2019. She broke up with him because she claimed he had no respect for her after photos of him with other women surfaced and rumors circulated that he was cheating on her.
By: Olivia J. - Gossip Whispers