Gerard Butler: "I Almost Killed Hillary Swank"
Gerard Butler has admitted that he 'almost killed' Hilary Swank during the filming of 'PS I Love You'.
News
Movies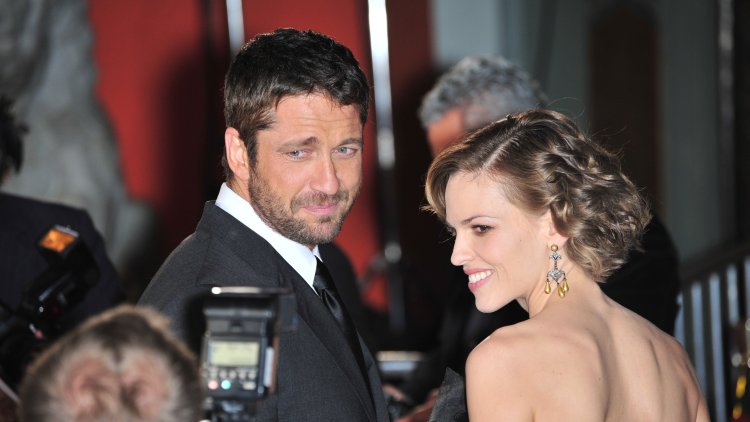 Photo Credits: Shutterstock
During a guest appearance on 'The Drew Barrymore Show' Gerard Butler revealed that he injured Hilary Swank while they were working on a scene where he danced 'like an idiot' in boxers and suspenders. While Butler's character, Gerry Kennedy, was supposed to get hit in the face with a suspender buckle while undressing, the metal buckle injured the actress' head instead.
"It got stuck, then came loose and flew over me," the 53-year-old actor explained, adding: "It was open cut. You could even see the rib marks. They had to take her to the hospital." Butler described the accessory as so dangerous, noting that the camera crew "had plastic fronts to protect themselves" from flying metal.
After the unfortunate event, the film studio cleared out 'in three seconds', leaving Butler crying in his boxers. "I hurt Hilary Swank. I almost put her eye out. I made a fool of myself," added the 53-year-old Butler, calling his former colleague a great person to work with.
In February 2020, there were rumors that a sequel to 'PS I Love You' was in the works, but Swank and other stars of the beloved film - Lisa Kudrow, Kathy Bates and Harry Connick Jr. - did not comment on their participation. Also, Butler did not comment anything on the matter.
By the way, Hilary Swank enjoys a blissful state and she is expecting twins with her husband Philip Schneider. Earlier this month, she told Page Six that she was feeling great in her third trimester. Hilary's pregnancy has divided the opinions of her fans, some of whom are overjoyed at the fact that she's pregnant, while others don't quite share the same enthusiasm. One fan commented: "Aren't you almost 50 years old? You'll be 70 when they're at college, and maybe, just maybe, you'll see their wedding."
NEW:https://tvexposed.com/these-are-the-worst-films-that-won-an-oscar-part-1