Madonna doesn't cease to shock with her looks, she is turning into a wax figure more and more every day
The pop queen has changed her image and experimented with her hair and clothes countless times during her career, but lately she has been unpleasantly surprising everybody with her fashion choices.
News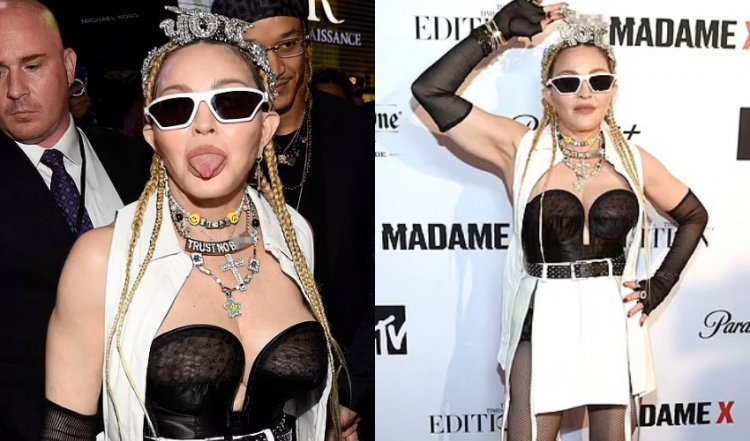 Photo Credits: Profimedia
At the premiere of her concert film 'Madame X' in Manhattan, Madonna appeared on Thursday night in the company of her 27-year-old boyfriend Ahlamalik Williams. She continues to shock the public with what she has done to her face by overdoing it with numerous cosmetic procedures.
Madonna appeared in a black corset (which highlighted her cleavage, which she has been putting in the foreground lately), which she tucked into a white high-waisted mini skirt with slits and a leather belt with rivets. She wore an unbuttoned white long leather vest and black fishnet stockings with black ankle boots. On her hands she wore see-through gloves that reached to her elbows.
She had a bunch of sequined and children's jewelry, a necklace with the inscription 'Trust No Bi ***' and earrings with crosses that she used to wear, a tiara with 'jewels' that said 'F *** You', afro braids, and sunglasses of futuristic design. Her posing on the red carpet could not pass without provocation. Her 36-year-old boyfriend licked her face as they posed for photographers.
Love You #MadameX #premiere pic.twitter.com/sTYOuv3jq8

— News-of-Madonna (@newsofM) September 24, 2021
Although many know that the Queen of Pop mostly dresses in a way that is shocking, there is a large number of those who cannot accept her excessive plastic surgeries. They comment that she looks like a wax figure without a single wrinkle, and she has changed her face shape a lot.
Madonna's new film will be available on the Paramount + streaming service from October 8th. The film documents her 2019 and 2020 world tour on which she promoted the album 'Madame X'.
Watch the official trailer here.
By: Sarah R.