Murder Mystery 2 in Hawaii: Jennifer Aniston and Adam Sandler spotted on the new movie set
Stars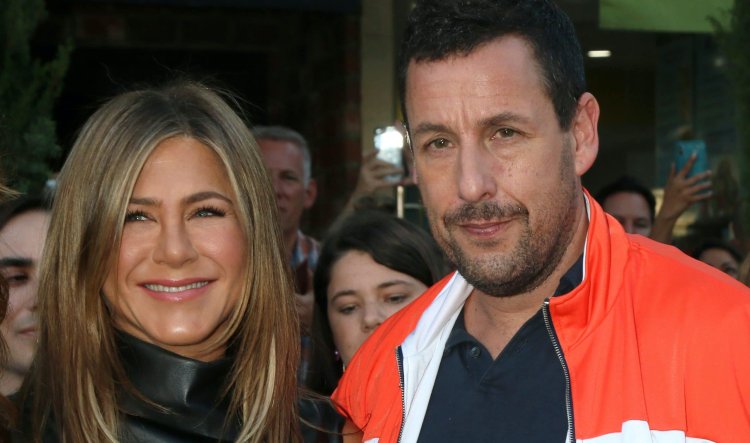 Photo Credits: Shutterstock
The two stars are currently in Hawaii filming for the Netflix sequel of Murder Mystery, which debuted in 2019
The behind the scenes photos are showing Jennifer Aniston and Adam Sandler reunited on the set of their upcoming sequel Murder Mystery 2, as stars were photographed on the set in Oahu for the Netflix film, Aniston 52, was wearing a green top and flower-patterned skirt while Sandler, 55, wore a blue button-down shirt and blue pants.
Respectively, after the first film debuted on Netflix in 2019, Sandler and Aniston are actually returning to their characters Nick and Audrey Spitz.
Directed by Kyle Newacheck the action-comedy Murder Mystery follows Nick (Sandler), a New York cop, and Audrey (Jennifer), his wife after they go on a European vacation to reinvigorate their marriage when it goes horribly wrong for both of them after being framed for the murder of an elderly billionaire.
TV Line reported in September the sequel would be "another international adventure full of intrigue and hijinks."
In June 2019, Netflix stated the first movie was viewed by over 30 million accounts in just three days. At the release date, the streamer said the movie's debut was "the biggest opening weekend ever for a Netflix film." Murder Mystery is the second movie Aniston and Sandler collaborated together, following the 2011 romantic comedy Just Go With It. As Murder Mystery 2 marks the third movie the two friends are making together.
Although filming is taking place in Hawaii, the set photos indicate that Murder Mystery 2 might not be taking place there. The fact that one of the photos features an extra playing the sitar, and the costume design for the extras in several of the photos hints that parts of the film might be taking place in India. However, the photos are not giving us too many hints about the plot for Murder Mystery 2, but the set design and extras do suggest that Sandler and Aniston's characters could be attending some sort of gathering or party.
It's still not clear what the second film is actually about, since the first Murder Mystery clearly didn't resonate with all audiences but, hopefully, the sequel can address many of the first film's problems. It's clearly fair to assume that Murder Mystery 2 will involve another murder that Sandler and Aniston's characters get entangled in.
The end of the first film finished with Sandler and Aniston boarding the famed Orient Express, perhaps the sequel will pick up not long after the original movie's ending. Murder Mystery 2 doesn't have an official release date just yet, but it seems more likely Netflix will be releasing the movie in the summer or fall of this year.