Poco M4 Pro: Cheap smartphone
Technology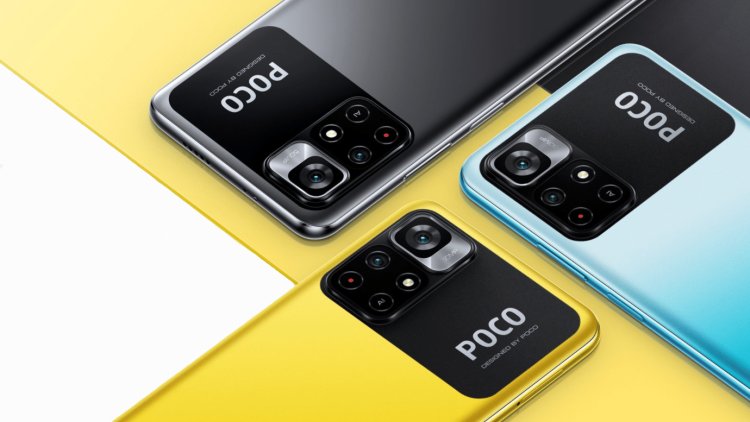 Photo Credits: POCO/Promo
The Poco brand belongs to the Xiaomi group, it is a subsidiary with a considerable degree of independence. The price of the Poco M4 Pro model reveals that it is a lower-middle-class smartphone. The model without the 5G attribute, has a camera with a resolution of 64 megapixels, while the model supporting 5G networks has 50 megapixels. 
The main attraction for potential customers who only need 4G connectivity will probably be a quality AMOLED display with a diagonal of 6.43 inches and a refresh rate of 90 Hz, which is the exception rather than the rule in this price range, and long battery life. Stereo speakers will also enjoy mobile entertainment fans. 
The back wall is dominated by a slightly elevated rectangular platform with rounded corners, occupying almost the entire width of the screen. At first glance, it looks like a smartphone has five lenses, but in fact, there are only three. The main camera lens is highlighted by a larger bezel and a horizontal surface with a different recessed grid.
The display has a Full HD + resolution (2400 × 1080 pixels) and a brilliant color display, so black is really black. Mobile gamers will enjoy not only the refresh rate of the display 90 Hz but also the sampling frequency of the touch layer of the display 180 Hz, which in practice means fast reactions in action games. 
A higher display refresh rate also means higher power consumption, so it is set to 60 Hz by default. The manufacturer declares a maximum backlight brightness of 700 rivets in normal mode, while the peak value in automatic mode can reach up to 1000 rivets, a value that many flagship smartphones do not reach.
The main camera's sensor has a native resolution of 64 megapixels, but by default, it uses pixel binning, which combines four physical pixels into a single image to capture more light. This is especially important for the evening and night shots. 
Images have 16 megapixels by default. There is, of course, a mode that allows you to use the maximum resolution of the sensor. The smartphone doesn't have a telephoto lens, but double-zoom images have no loss of quality because they use a cut-out from a 64-megapixel sensor.
In good light, the quality of the photos is very decent, with natural colors. You can record video in maximum full HD resolution, ie 1080p at 30 frames per second. The video quality is average.
An 8-megapixel ultra-wide camera is available for architectural or landscape shots, which shoots satisfactorily. This camera is prone to slight overexposure when shooting in low light. The third macro camera with a resolution of 2 Mpx is more or less in number, but it can, for example, replace a magnifying glass or document some detail.
The 16 Mpx selfie camera produces nice, color-balanced, and sharp images, but we recommend turning off the implicitly active skin-smoothing effect, which exaggerates this with smoothing and thus suppressing details.
The heart of the smartphone is the MediaTek Helio G96 chipset, manufactured using 12 nm technology. In comparison, the 5G sibling has a more modern MediaTek Dimensity 810 chip, manufactured using 6 nm technology, yet the Helio G96 chip processor is approximately 15% more powerful. The performance and quality of cameras must, of course, be judged in terms of price class. It provides plenty of performance for most applications as well as regular games.
The battery has a very decent capacity of 5000 mAh, which is enough for two days of medium-intensive use. The package includes a 33 W charger that can charge the battery to 65% in half an hour and to full capacity in an hour.
The tested smartphone had the Android 11 operating system with the MIUI 13 user extension, typical for Xiaomi. The superstructure is clear, although it may be a bit recombined graphically, and migrants from other brands will also find their way around it quickly. There are just a lot of pre-installed apps, so you're sure to uninstall many of them, for example, because they have the same functionality as the Google apps you're used to.