The life story of Norman Reedus
Norman Reedus was building his acting career for decades, but this sculptor, photographer and motorcycle lover only gained worldwide fame and fan affection with the series 'Living Dead', but he sees only one - his life partner, actress Diane Kruger.
News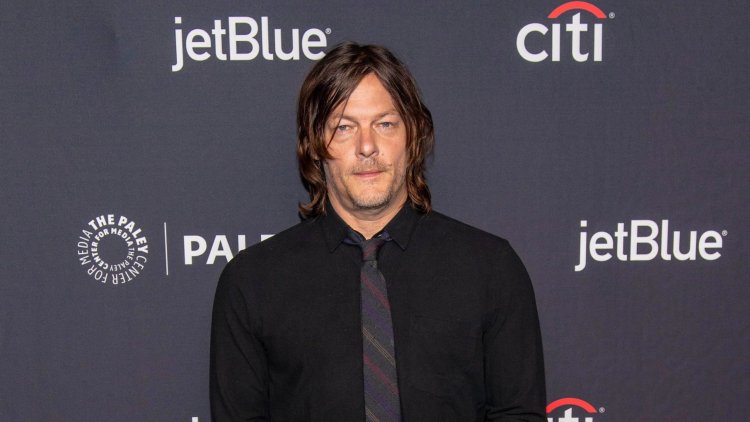 Photo Credits: Shutterstock
Norman Reedus showed his acting skills in about sixty films and TV series, and although his talent has gone well in many, he has earned the most popularity for his role as Daryl Dixon in the hit series 'The Living Dead'.
He describes himself as a normal and quite interesting person because he is not like many actors in Hollywood, which could be the reason why fans love him so much. Before making a name for himself in the acting world, this 53-year-old was a model and filmed campaigns for big fashion names. Today, in addition to acting, he has a film production company, and he is a painter, a photographer, and a sculptor. Norman Reedus is much more than it seems at first glance.
Mark Norman Reedus was born on January 6, 1969, in a city called Hollywood, but in the US state of Florida, and he spent most of his life and growing up far from the Hollywood Hills of Los Angeles. He has tasted life in Japan, Spain, and the UK, and boasts English, Italian, Scottish and Irish roots.
'My parents divorced when I was a few years old, and I can only thank my mother for not seeing my father. Because of her job, we moved to Japan where we were during my high school years. The mother taught in kindergarten, high school, even ran an orphanage for a while, but earlier in life, she was a Playboy bunny ' says the actor who renewed his relationship with his father shortly before he died in 2002. Apart from frequently changing residential addresses, Reedus also remembers his childhood by tennis training, so today he often jokes that instead of series and movies, we could watch him on tennis courts and big competitions.
'When I was a child, I fell in love with tennis. I trained at Kalamazoo, Michigan with a number of athletes and loved going to training. I played in the junior league against many other athletes who I thought took everything more seriously than I did. That's why I felt it wasn't something I was going to do.' said the actor who moved to London after high school with friends.
One of his first creative jobs was in the Spanish city of Sitges, where he lived for some time. He had a hard time finding his way, so in order to earn money for rent and other things, he decided to paint stray cats. He would take his pictures of cats and sell them in the city, just to make money. When he returned to California, he worked as a motorcycle salesman in a store, and according to some reports, he was earning $ 7.50 an hour. However, it was this job that proved to be fateful.
He got his first acting job in a play at the Tiffany Theater on Sunset Boulevard, and during the early '90s, he appeared in several music videos by artists such as Keith Richards, REM, Björk, and Radiohead. He had his debut film role in 1997 in the film 'Floating', and with hard work and perseverance, he achieved that the producers wanted him more and more in their films and series. Although he acted for three decades, it was only when he appeared as the resourceful Daryl Dixon in the 2010 series 'Living Dead' that members of the fairer sex declared him a sex symbol and one of the most masculine actors in Hollywood.
But Diane Kruger, his current partner and the mother of their daughter, who was born in 2018, did not pay attention to him at first. She was busy with her glamorous life, securing a reputation as an international style icon, becoming the face of Dior, Yves Saint Laurent, and Chanel Beauty, and building her own intriguing acting biography. The two met in 2015 on the set of 'Sky', where she played an unfortunate Frenchwoman who, while on holiday with her husband in America, leaves after a violent quarrel and finds a romance with a rude California park ranger played by Reedus.
Kruger and Reedus were first seen together in July 2016 when the New York Daily News reported that witnesses saw them having fun and kissing at a bar in the East Village. A Reedus spokesman vehemently denied it, and a source from Diana Kruger's circles said the story was a 'complete fabrication'. The actor's love life at the time was almost a complete mystery. It is only known that, before he became famous, he was in a long-term relationship with model Helena Christensen, whom he met through a mutual friend of the photographer and who in 1999 gave birth to their son Mingus Lucien Reedus. But their relationship did not last, so they decided to go their separate ways, and today they are in a great relationship because of their son.
In November 2018, they became the parents of a girl whose name they do not want to reveal to the public, and in January 2019, Kruger requested that photos of her daughter not be published without her permission.
And when their daughter goes to bed, Diane and Norman are, as they claim for themselves, quite ordinary people who enjoy little things like playing cards or lying on the couch with a good movie.
'I like watching horror movies and sometimes I feel addicted to them. By the way, I'm one of those people who can watch a stupid movie and end up crying. I hope that I will carry this characteristic in me forever' concluded this multi-talented artist who claims that we will watch it on screens for a long time.