Battery error stops production of the ID. buzz
Volkswagen Commercial Vehicles has been ordered to halt production of the electric Bulli. This is due to battery issues with the ID. Buzz.
Technology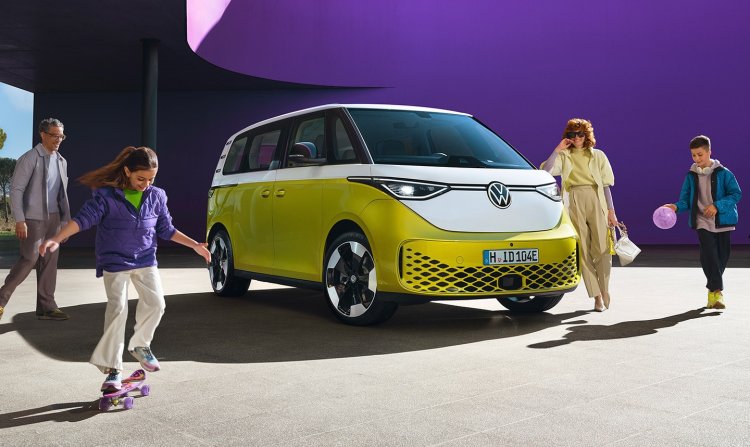 Photo Credits: Volkswagen/Promo
VW presented the ID. Buzz research in 2017, specified a range of 600 kilometers based on the NEDC test cycle, which is no longer applicable.
The production vehicle had its world debut on March 9, 2022. The ID. Buzz electric Bulli is estimated to go 421 kilometers in the new WLTP measuring cycle with the 77 kWh battery.
Volkswagen is using it to electrify its iconic Bulli. The ID is the most expensive. Only the delivery van version ID is available for the Buzz Pro for 64,600 dollars.
Buzz Cargo is less expensive at 54,500 dollars. According to the Hannoversche Allgemeine Zeitung, VWN will utilize the ID. For the time being, buzz does not continue to build. In the background, there are issues with the high-voltage battery.
Approximately 500 ID.Buzz has been built in Hanover to date but has not yet been distributed to clients. Production has been put on hold for a week.
Volkswagen discovered that some cell modules are not functioning properly after conducting an investigation. As a result, range and battery life may suffer as a result.
Volkswagen acquires the battery cells from a new supplier, who appears to have battery cell issues. VWN reports that the supplier is already working on a solution. Customers may expect the delivery date to be pushed out another further.
Only e-cars that are freshly registered by December 31, 2022, are eligible for the $4,000 Bafa subsidy. The amount of the Bafa subsidy is determined by the advertised price of the basic model before taxes.
This is where the ID. Buzz Pro comes in at 4,000 dollars subsidy plus manufacturer share, for a total of 7,500 dollars off the 64,600 dollars. How many IDs are there? The question of whether Buzz will be re-registered this calendar year remains unanswered.
In addition to the battery issues, delays in the manufacture of new cars are being caused by delivery challenges for numerous components as a result of the Ukraine crisis and the Covid 19 pandemic.
In the worst-case scenario, buyers can only subtract 3,570 dollars off the 64,600 dollars and must then factor in at least 61,030 dollars.
Post by Bryan C.