Literally one strip kept everything in place for her, and her fiancé couldn't stop kissing her in such an outfit
Bella Thorne and Benjamin Mascolo exchanged tenderness at the Cannes Film Festival, and she captured attention in a provocative creation.
News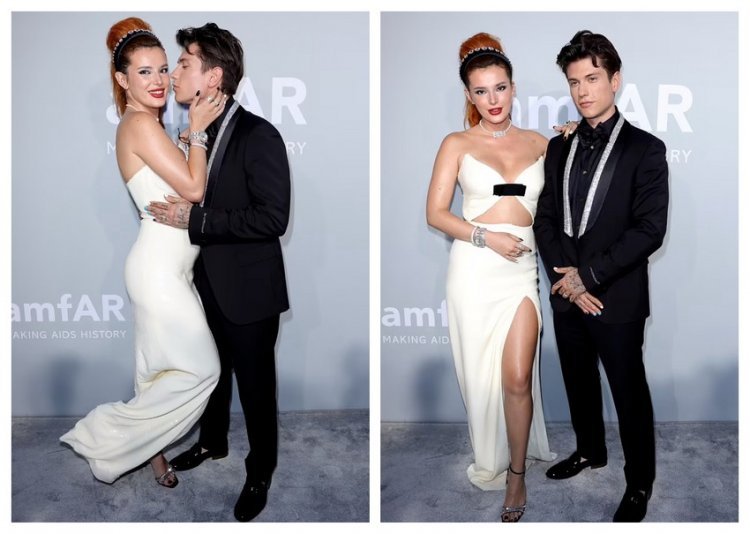 Photo Credits: GETTY IMAGES
American actress Bella Thorne did not want to miss one of the most important film events, so she arrived in Cannes in the company of her fiancé, musician Benjamin Mascolo, where the prestigious festival is taking place these days.
The couple shone on the red carpet of the amfAR Gala evening, and 23-year-old Bella did not miss the opportunity to win in a provocative creation. She chose a white dress with a deep slit on her leg and abdomen, but also a neckline in which only one single strap held her lush bust.
The couple posed together in front of photographers, and 28-year-old Benjamin, who was elegantly dressed in a black suit, could not stop kissing the beautiful soon-to-be bride.
The news of the engagement was announced after two years of relationship and thus delighted their fans and they have not separated from each other since they reunited in July last year, after having to be separated for five months due to a coronavirus pandemic.
Bella began her acting career as a child star on the Disney Channel, and in recent years has attracted attention with inappropriate behavior, tumultuous love life, constant partying, and nude photos, and this year she joined the 18+ page OnlyFans.
By: Olivia J. - Gossip Whispers