"Looking healthier": Rob Kardashian's been hiding for a long time but he returned in a great shape
A rare photo of Rob Kardashian was posted by his sister Kim Kardashian.
News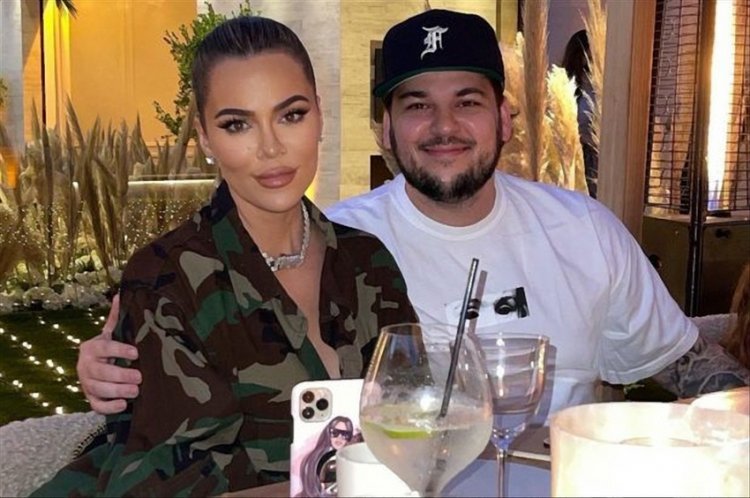 Photo Credits: Instagram/Kim Kardashian
Rob rarely appears in public, so many were surprised by a photo shared by Kim Kardashian in which he is posing with his sister Khloe, while Kourtney and Travis Barker are on the other. 'Dinner with my favorite couples,' Kim wrote.
Fans immediately noticed that Rob had lost weight and looked a lot better than before: 'I enjoy watching Rob go out and look great', 'I don't know if the word couple is appropriate', 'Why do you write your favorite couples and then put a photo of Rob and Khloe?', 'Rob is very handsome', 'Wonderful pictures', ' Your brother is really cute ', are some of the comments.
View this post on Instagram
By the way, the brother of the much more famous sisters started to change physically and gain weight because he was stressed by the sheer fame, which was brought to him by the show 'Keeping Up With Kardashians', and unrequited love. It all started back in 2012. when he was in a relationship with singer Rita Ora, 30, and then they had a nasty breakup.
Rob said publicly that Rita cheated on him with more than 20 men and that it destroyed their love after only a few months. The singer commented on this saying they never had an exclusive relationship and that she left Kardashian because of her music career which requires frequent travel.
Rob defended himself that he had to bring their dirty laundry out to the public to prevent himself from ever forgiving her of all these affairs. He also expressed his anger on Twitter.
'How can she be busy working on her career and have time to be with so many guys while in a relationship? I am disgusted', he wrote on Twitter and then deleted it.
Rob found it increasingly difficult to endure the break and he sought comfort in food. The sisters defended him and said that he was suffering and that he knew no other way than to solve his emotional problems by eating, and their brother did not want to go to experts for advice as they suggested.
During that period, in early 2016, Rob began a relationship with a reality star Blac Chyna, 33, and they got engaged in less than a month. His family and fans thought he was rushing because he was still not emotionally well. There was also a coincidence that Chyna was the ex-girlfriend of rapper Tyga, who was then in a relationship with Rob's sister Kylie Jenner.
View this post on Instagram
As early as November 2016, Kardashian got a daughter, Dream Renee (4), with Chyna, and their relationship ended in February 2017. The breakup was, to say the least, rocky. They argued fiercely wherever they went, through social media, American media, and along the way he leaked Chyna's nude photos. They sued and destroyed each other's property. They also filed a fierce lawsuit over custody of their daughter.
In recent years, Rob sometimes appears in public at family gatherings and he has an Instagram profile where he mostly shares his daughter's photos. Rarely does he show up, but then they are mostly selfies and he often wears a protective mask on his face.
View this post on Instagram
By: Helen B.