Mini PC for big tasks - MSI PRO DP21 11M
Technology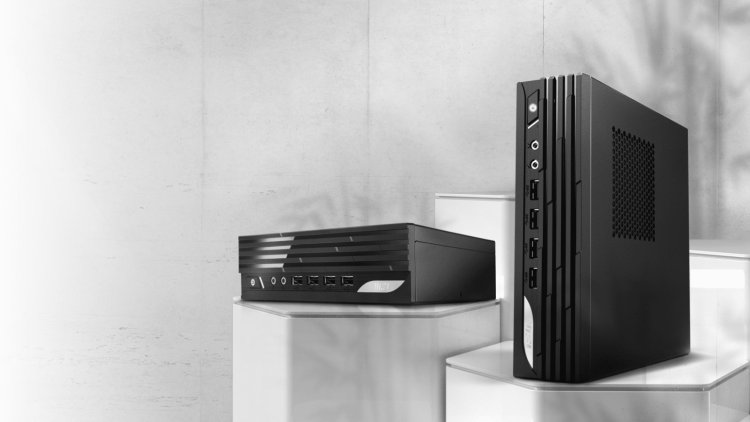 Photo Credits: MSI/Promo
The new MSI PRO's beautiful appearance cannot be denied, especially if we prefer more industrial finishes.
The MSI PRO DP21 appears to be a professional-grade PC.
The computer can be used in one of three different seating configurations. The first is "standing" with the attached base, the second is "lying", and the third is "lying" with the accompanying VESA adapter, i.e. on a specialized holder.
There are vents on the side of the casing through which the set pushes heated air. The inlet opening is placed at the top (or to the right) of the set, above the CPU fan, which is the only adjustable component. The power supply is external in this situation, and thus passively cooled.
There are four USB ports on the front, which is a pretty acceptable quantity for such a little device. Unfortunately, the exclusion of the blue connector color, which is typical of USB 3.0, is not due to creative decisions - all four connectors are included in the USB 2.0 standard.
There are separate 3.5 mm miniJack connectors for headphones and a microphone next to it, therefore if we use a pair with a Combo connector, we'll need to utilize an adaptor.
On the top (or far left), there is a power button and a diode that signals the drive's functionality. The illumination of the power button indicates power.
The remaining ports, including four USB 2.0, but appropriately in the 3.2 (5 Gbps) standard, are naturally located on the back of the housing, and include those on the front, MSI PRO DP21 offers:
4x USB 3.2 gen. 1;
4x USB 2.0 (front);
2x COM (RS-232);
1x RJ45 (GbE);
1x HDMI 2.0;
2x microphone input (one on the front);
1x headphone output (front);
1x line output.
You admit that there are quite a few connectors for such a little kit. The existence of RS-232 ports, in particular, boosts the usefulness of this set in places where it is required to interact with certain analog equipment - it eliminates the need to employ frequently unreliable USB adapters.
In fact, there is only one major caveat here: one picture output connector is DEFINITELY insufficient for today's standards. Only the fact that the current HDMI 2.0 will enable 4K resolution at 60 Hz enhances the image of the situation.
CPU:
Intel Core i5-11400;
6 cores and 12 threads;
clocked at 2.6 GHz (Boost 4.4 GHz);
12 MB cache, TDP 65W
Memory:
8 GB DDR4 3200 MHz;
2x SO-DIMM, max 64 GB
Graphics Card:
integrated, Intel UHD 730
Disk:
512 GB SSD (M.2 2280, PCI-E 3.0 x4, NVMe);
free 2x SATA 2,5 "
Operating system:
Windows 10 Pro
Keyboard and mouse:
lack
Optical drive:
lack
Charger:
external, 120 W
Dimensions:
204 x 208 x 54.8 mm;
2.3 liters of volume
Libra:
1.27 kg (without card, RAM and SSD)
Housing Materials:
steel housing;
plastic front;
Communication:
Wi-Fi 6 802.11 a / b / g / n / ac / ax (Intel AX201);
GbE (Realtek RTL8111H);
Bluetooth 5.2
Connectors:
4x USB type A 3.2 gen1;
4x USB type A 2.0 (front);
2x RS-232 (COM)
1x HDMI 2.0b;
1x RJ45;
2x miniJack 3.5 mm (headphones + mic, front);
2x miniJack 3.5 mm (line in + mic)
Additional features and
software:
Kensington lock holder;
kit for connecting 2 2.5 "drives;
computer mounting to the VESA 75x75 / 100x100 system
Typically, such compact sets are laptops without screens or peripherals, which means that if a component fails or we want to update the equipment, we only need to replace the complete set with a new one. The MSI PRP DP21 is not one of them. In terms of expansion, it is essentially identical to a standard PC.
You may swap out the processor (LGA1200), memory (SO-DIMM DDR4), disk (M.2-2280 NVMe), a network card (M.2-2230), and even the cooling (up to 40 mm in height)!
The configuration has just one RAM chip, which is a severe disadvantage in the case of a set for players because the lack of 2-channel operation greatly affects gaming performance. However, the difference is considerably less visible in-office programs, and we can always quickly add another 8 GB.
In theory, you could select a configuration with a very basic processor, limited RAM, and limited disk capacity, and then replace these components with more powerful versions if necessary. The addition of 2.5 "discs is actually pretty straightforward, albeit even here it will be necessary to violate the guarantee seal - which is simply not polite on MSI's part…
MSI has clearly been creating these kinds of PCs for a long time since the MSI PRO DP21 set is highly sophisticated. Its small size is combined with outstanding efficiency and responsiveness in office applications. Furthermore, it accomplishes this in a very stylish setting that is also distinguished by a strong work culture.
The only criticism we have for MSI's design is the lack of connectors. The lack of USB 3.2 ports on the front and only one video output are both poor design decisions that negatively impact the user's experience with this computer.
The cooling volume at full load may also fail slightly, but in most applications, this is rarely realized. However, we enjoy the ability to expand and service (by replacing components) - this is a very rare occurrence in this PC category.