What did Pamela tell in the documentary
Some things are really traumatic...
News
Movies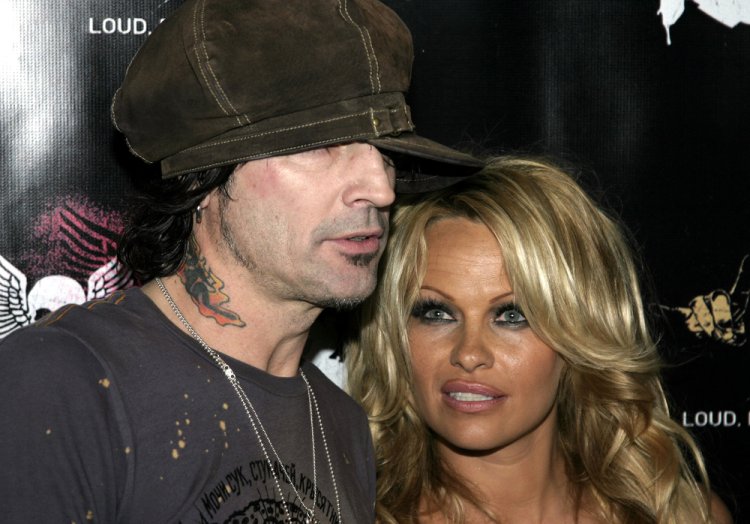 Photo Credits: Shutterstock
Pamela Anderson detailed the narrative of her rise to stardom, love affairs, and sex scandal in her own words, using private recordings and journal entries. We saw Pamela, a Love Story, a documentary in which the actress told her story.
Pamela's life has been chaotic. She had five husbands, was a victim of rape and violence, grew up in a chaotic household, and the media didn't like her either, especially after an explicit video of her and her ex-husband Tommy Lee was leaked.
She aspired to be a serious actress, but as she stated in the film, it was impossible for her to do so because of an intimate tape that caused everyone to regard her as a sex symbol and cast her in such roles. Pam & Tommy, which featured her marriage during the era when their unauthorized 18+ tape was broadcast, was released last year.
Pamela chose to express her thoughts on the matter about a year after the miniseries aired. In the documentary, the actress read excerpts from a diary she kept throughout her life, discussing her upbringing, rape, graphic footage with Tommy, and failed marriages.
Pamela did not have an easy childhood. Her parents married when her mother was pregnant with her. They were young. "They were still going wild. And Dad drank a lot. They fought a lot. There were a lot of insults and physical abuse. Mom vacuumed during the hockey game. Dad took the vacuum cleaner and threw it over her head on the beach. No vacuuming during hockey.", Pamela recalled.
"I knew when I had to take my brother out. I'd wait for them to stop screaming. Then we'd go in and they'd be against the wall or on the table, kissing and throwing themselves around the room, banging on the door. We thought, 'That's better.' But it was the same energy," said Pamela. Her mother left her father several times, but eventually, she would return to him. Life without their father was difficult for them.
"We left dad several times. We lived in an apartment, with social assistance. I still remember the taste of powdered milk. But I realized that no one has a perfect childhood. When I was little, horrors happened to me...", she said.
Mother and father are now happy together, says Pamela.
When she was very young, Pamela was a rape victim. She told details about it in the documentary.
"When I was 12 or 13, I was with a friend. She liked a guy much older than us. We went to a friend's apartment. She went upstairs with a guy she liked. I started playing backgammon with a friend while I was waiting for her. We played for a while until he told me it looked like I needed a massage. He was 25 and I was 12. He was raping me. I thought it was my fault," she said.
"Mom always cried because of dad. I couldn't hurt her anymore. I didn't tell her or anyone. I tried to forget it. I tried, but it was like it was tattooed on my forehead. I imagined it said 'I had sex' on the forehead and I didn't want anyone to know. It was my first exposure to sexual experiences, so... There was a lot of confusion. Because of that, I became shy. I was terribly insecure," she said.
Sex tape with Tommy
Tommy Lee and Pamela used a video camera to record their private moments. To create memories, they chronicled their jokes and how they spent their days. They were filmed, among other things, during intercourse. They discovered the safe had gone missing, along with their private recording, one day. She described in detail how she felt when she discovered it had been taken and how she felt when it was leaked to the world.
"We were in the house and Tommy went to get something from the safe. He came over and said, 'Is this a joke? Where did you put the safe? He was looking at my assistant John Roberts. John said, 'Are you crazy? I have no idea.' We went there and he was missing. Then I called the police. We filed a police report, but nothing happened.
We didn't know when it was stolen because we had been working on the house for a long time. It could have been stolen within six months. We didn't know he was missing. We did not know that something from it could harm us. But one day we got something in the mail. Wrapped in brown paper. Tommy opened it. It was a VHS tape. Tommy told me to go upstairs and looked at her. I haven't watched it, ever.
Afterward, he came upstairs and said: 'This will upset you. It's a video of us having sex.' Oh, God. We realized they had home footage and knew we were in for a treat. We were newly married. We were naked all the time and filmed each other on vacations. We were just fooling around. They found all the nudity on different tapes and put them together," Pamela recounts.
"When the footage came out, we were under a lot of stress. The paparazzi were everywhere. It was our first time out since Brandon was born. His parents were babysitting him. We went to The Viper Room. On the way out, someone shoved a camera in my face. Then they sprayed us with tear gas," she said.
Despite all of the disasters in her life, Pamela does not consider herself a victim.
Post by Bryan C.