A League of Their Own (1992): An Empowering Sports Movie
A League of Their Own is a classic sports movie directed by Penny Marshall and starring Tom Hanks, Geena Davis, Madonna, and Rosie O'Donnell. The movie was released in 1992 and tells the inspiring story of the All-American Girls Professional Baseball League (AAGPBL), which was formed during World War II when many male baseball players were serving in the military.
News
Movies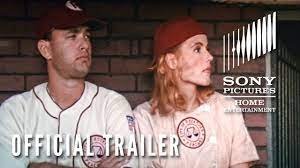 Photo Credits: Youtube
The Plot of A League of Their Own
The movie follows the story of two sisters, Dottie (played by Geena Davis) and Kit (played by Lori Petty), who join the AAGPBL after their husbands leave to fight in the war. The sisters are both talented athletes, but they have very different personalities. Dottie is the star of the team, while Kit is struggling to find her place.
Throughout the movie, the sisters and their teammates face many challenges, including sexism, discrimination, and personal struggles. However, with the help of their coach Jimmy Dugan (played by Tom Hanks), they learn to overcome their differences and work together as a team.
The Cast and Crew of A League of Their Own
A League of Their Own boasts an impressive cast and crew, with Penny Marshall serving as the director. Geena Davis delivers a powerful performance as Dottie, a strong and confident player who becomes the heart and soul of the team. Tom Hanks is also exceptional as Jimmy Dugan, a former alcoholic who finds redemption through coaching the team.
Madonna and Rosie O'Donnell also deliver standout performances as Mae and Doris, two of Dottie and Kit's teammates. The chemistry between the actresses is palpable, and they bring a level of humor and heart to the movie that is both entertaining and empowering.
The Themes and Messages of A League of Their Own
A League of Their Own deals with several important themes and messages that are still relevant today. The movie explores the concept of women's empowerment and how sports can be a vehicle for social change. It also touches upon themes of sisterhood, teamwork, and the importance of perseverance.
Throughout the movie, the women face numerous challenges and obstacles, both on and off the field. They are constantly subjected to sexism and discrimination, but they never give up. Instead, they use their skills and determination to prove their worth and show the world that women are just as capable as men.
Also Check Brimstone: A Dark and Intense Western Thriller
In Conclusion
A League of Their Own (1992) is a classic sports movie that continues to inspire audiences to this day. With an impressive cast and crew, powerful performances, and a message of empowerment and perseverance, the movie is a must-watch for anyone who loves sports, or who appreciates a good underdog story. It's a reminder that no matter how difficult things may seem, with hard work and determination, anything is possible.