AMD keynote: Ryzen 7000 and RX 7000
Technology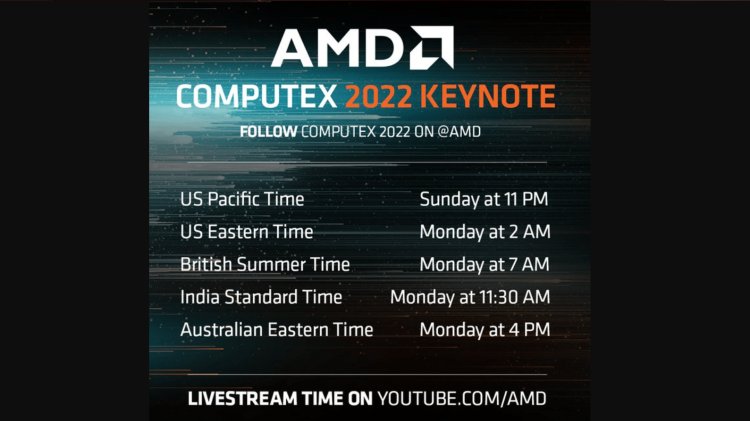 Photo Credits: AMD/Promo
AMD's Computex presentation begins today at 2 a.m., and new desktop and notebook products are likely to be announced. It is most likely about the Ryzen 7000 CPUs, but it might also be about the RX 7000 graphics cards.
The Computex IT trade show does not officially begin until Tuesday, but AMD's keynote will take place today. Interested parties can then directly follow the presentation on YouTube.
There are few additional specifics due to the live stream announcement itself. AMD has only stated that CEO Lisa Su wishes to discuss the next generation of desktop and mobile devices.
However, it is now expected that Lisa Su will reveal (at the very least) the new Ryzen 7000 processors at the event. On Friday, a comparable statement was made, in which Lisa Su could be seen standing in front of a Ryzen 7000 heat spreader.
Furthermore, Asrock and Gigabyte recently leaked the first X670 mainboards, which will also be on display at Computex. As a result, AMD and its partners are likely to exhibit a first desktop portfolio based on Ryzen 7000 during the fair.
However, it is uncertain to what extent AMD will be able to present notebook advances. The corporation may also wish to explicitly unveil the first mobile CPUs, or there may be comparable news in the GPU market.
In terms of the future RX 7000 graphics cards, one may presumably expect a teaser. There have been few speculations about new graphics cards in recent days, so an idea of tangible products cannot be expected immediately.
If AMD discusses the new RX-7000 graphics cards, the emphasis should most likely be on general improvements, namely the new RDNA3 architecture. You'll learn more about it tomorrow. AMD's keynotes typically run one to two hours, so all of the details should be available by 4 a.m.