Best War Movies - Part One
We have selected unique films that deal with wars in the 20th century.
News
Movies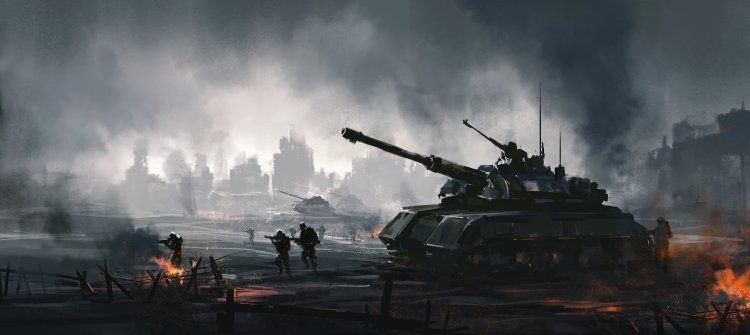 Photo Credits: Shutterstock
Black Hawk Down
The best real-life film about modern urban ground combat
This film is described as "extremely realistic" by military veterans. Somalia is ripped apart by civil war between clan militias and starvation. With the consecration of the United Nations, the new American administration led by Bill Clinton intends to address the country's tensions with a military invasion in Somalia's capital, Mogadishu.
On the afternoon of October 3, 1993, Combat Operation Gothic Serpent commenced. There were 19 helicopters, 12 Humvee military all-terrain vehicles, and 160 personnel on the site. However, when an American Black Hawk helicopter is shot down by an armor-piercing missile and falls on a Mogadishu street, the normal action becomes the most severe close-quarters ground battle in which US troops have been involved since the Vietnam War.
Ridley Scott's film portrays the atmosphere of the American base prior to the assault, as well as the action itself, with documentary verisimilitude. What was supposed to be a fast ambush becomes a rescue mission. Hans Zimmer's synthesizer music with Somali melodies colors the crazy camera work, which is appropriately chaotic. The documentary format is supplemented with a time indication, and the action scenes will take your breath away.
IMDb rating: 77%
Director: Ridley Scott

Starring: Josh Hartnett, Orlando Bloom, Ewan McGregor, Jason Isaacs, Tom Sizemore, William Fichtner, Eric Bana

Origin and premiere: USA, 2001

Length: 144 minutes
A Bridge Too Far
A star-studded film about the failure of Operation Market Garden
A drama about the failed Allies' attempt to hasten the conclusion of the war by capturing the three bridges over the Rhine River, allowing entry into Germany. The final phase of this operation was doomed to failure due to weak Allied intelligence and the presence of two German panzer divisions.
Few films deal with failed actions, but this one does - it surely does not celebrate a heroic win. It's star-studded and nearly three hours long, but you won't be bored.
IMDb rating: 74%
Genre: War Movies

Directed by: Richard Attenborough

Starring: Dirk Bogarde, Sean Connery, Edward Fox, Elliott Gould, Gene Hackman, Anthony Hopkins, Hardy Krüger

Origin and premiere: Great Britain, 1977

Duration: 175 minutes
The Unknown Soldier
Realistic depiction of almost unknown events from period II world war
Stalin and Hitler agreed on the division of influence in adjacent nations in 1939 and quickly began their portioning. And no one was going to stop them. They conquered Poland together, and Stalin took Latvia and Estonia. Finland's chance has come. The fight between the small Nordic country and the totalitarian communist machine is reminiscent of the story of David and Goliath.
A lesser-known, but surprisingly high-quality, gritty Finnish film was based on Väinö Linna's best-selling novel Tuntematon sotilas (The Unknown Soldier) and its uncensored version Sotaromaani (The War Novel). It narrates the narrative of a Finnish unit, presents a genuine military struggle realistically, and looks at it through the perspective of a diverse group of men who were firmly united by the war.
IMDb rating: 77%
Genre: War Movies

Directed by: Aku Louhimies

Cast: Joonas Saartamo, Jussi Vatanen, Aku Hirviniemi, Juho Milonoff, Johannes Holopainen, Eero Aho, Andrei Alen

Origin and premiere: Finland, 2017

Duration: 135 minutes
Hacksaw Ridge: Birth of a Hero
A gritty but true story of mistrust, faith, and determination
The film is based on genuine facts. Desmond T. Doss, a World War II US Army medic who served during the Battle of Okinawa, refused to murder people. He was the first conscientious objector in American history to be awarded the highest military distinction, the Medal of Honor, by the President of the United States of America on behalf of Congress.
Mel Gibson created a wonderfully and suggestively horrific war film. As one of the few, he was able to convey the true horrors of battle without exceeding the acceptable limit. The spectator will hear and see real soldiers from the Battle of Okinawa at the end of the film. Desmond T. Doss himself is also present.
IMDb rating: 81%
Genre: War Movies

Directed by: Mel Gibson

Starring: Andrew Garfield, Vince Vaughn, Teresa Palmer, Sam Worthington, Rachel Griffiths, Matthew Nable, Luke Bracey

Origin and premiere: USA, 2016

Length: 131 minutes
Death Awaits Everywhere
The best film about the war in Iraq from the perspective of a pyrotechnician
Stories of soldiers who are not fighting on the front lines in Iraq, but whose jobs are incredibly risky - they defuse placed bombs and mines. Military missions gradually cease to be the fulfillment of patriotic or professional tasks and instead become the only setting in which they comprehend and feel at ease. Sergeant William James is one such individual. He eventually becomes a gambler, for whom the work of a pyrotechnician is a type of outgrowth of a dangerous sport, and family life becomes unbearable for him.
The picture was nominated for nine Academy Awards and won six of them. Awards include Best Picture, Best Director, and Best Original Screenplay.
IMDb rating: 75%
Genre: War Movies

Directed by Kathryn Bigelow

Cast: Jeremy Renner, Anthony Mackie, Brian Geraghty, Guy Pearce, Ralph Fiennes, David Morse, Evangeline Lilly

Origin and premiere: USA, 2008

Length: 131 minutes
Post by Bryan C.