Damiano David's completely naked photo!
Damiano David completely naked congratulated Christmas. His photo gathered 1.4 million likes. He covered strategic parts only with Santa's emoticon.
News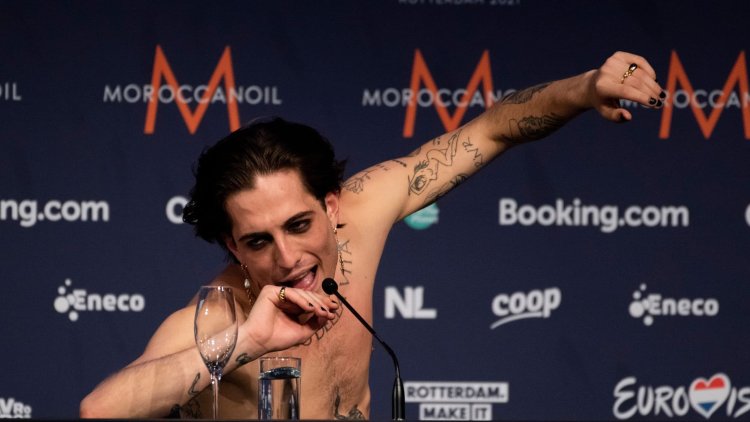 Photo Credits: Shutterstock
Damiano David is an Italian singer and songwriter known for being the vocalist of the Italian rock band Måneskin, which won the 2021 Sanremo Music Festival and the 2021 Eurovision Song Contest. He was representative of Italy with the song " Zitti e buoni ".
Damiano was born in Rome, Italy. He is the son of flight attendants. Due to the nature of his parents' work, he and his brother traveled the world from an early age and learned about various cultures.
After his victory at the 2021 Eurovision Song Contest, he was falsely accused of drug use during the final. In the controversy, he voluntarily submitted to a drug test, the result was negative. Damiano and his bandmates have stated that they are against drugs. Damiano himself said in an interview for ' Vogue Italia ' "We are not falling into the stereotype of the alcoholic and drugged rock star." 
He believes that creativity comes from a "healthy, trained and lucid" mind, and it is contradictory to try to truly express "our self uniting us instead of something that makes us dependent slaves ".
David, the frontman of the band Maneskin, who won the Eurovision Song Contest this year, is still a big star and is followed by five million people on Instagram. He made sure that his Christmas card was different from the others, so he decided to congratulate Christmas completely naked.
"Merry Christmas everyone. Lego and me," Damiano wrote on Instagram. He posed holding his cat and covered the intimate parts of his body with a sticker. The picture was liked by 1.4 million people.
Women all over the world have gone crazy for him, both because of his voice and his incredible hotness. So it's no surprise that his latest post on Instagram caused a standing ovation from the female audience.
Damiano also earlier posted a photo of himself posing completely naked, holding a ball in his hands. "Ball is life," he wrote briefly in a description of the photo that garnered more than a million likes.
"Suddenly I'm very interested in sports," "Sexy," "It is too early for this" "How can anyone be this sexy," "Oh Santo Gesà, Giuseppe e Maria," are just some of the enthusiastic comments by fans.
If we can remember, Miley Cyrus, 28, also seems to have fallen for the charm of Italian Damiano David.
The singer met the musician at the Gucci fashion show in Los Angeles and did not let him go. Photographers filmed Miley hugging Damiano and whispering in his ear, and they both had a smile from ear to ear, but at times he seemed embarrassed.
With them was Victoria De Angelis (21), who plays bass in the band, and all three posed happily. Rumors quickly began to spread that Cyrus had cast an eye on the Italian, who is irresistible to millions of women. The singer is known for her turbulent love life in which she loved women and men.
Damiano is engaged to model and influencer Giorgia Soleri (25), as the Italian media wrote, and they have been together for four years and first hid their love from the public.