Irina's shirt moved and revealed a lace bra!
The famous model took another walk in a bra and delighted the fans.
News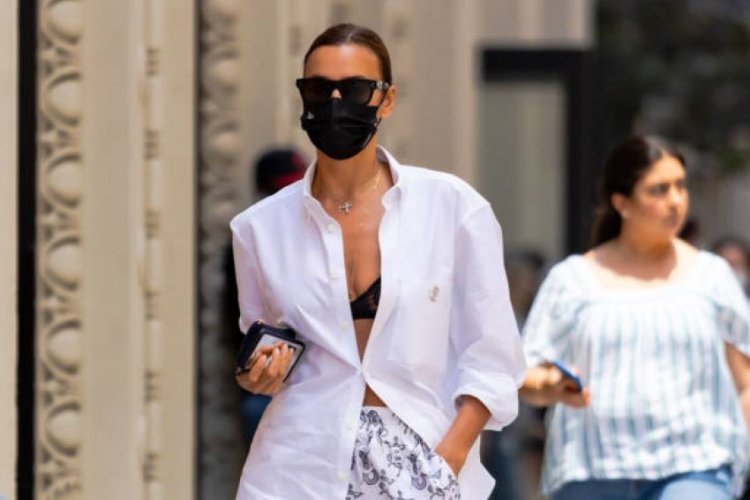 Photo Credits: Gotham | GETTY IMAGES
Russian model Irina Shayk (35) was photographed in New York with her daughter Lea De Seine, and she delighted all fans with her beautiful appearance and outfit.
Namely, the famous model was photographed while spending quality time with her daughter, and on that occasion, she wore a white shirt, black and white skirt, and black slippers. Under her white shirt, she wore a black lace bra, which was see-through, so fans zoomed in on the photo to try to see the model's breasts.
Irina did not take the smile off her face, and it seems that she is very happy because of her relationship with rapper Kanye West (44).
She tied her hair in a bun, while she wore dark sunglasses on her eyes, and she completed the whole look with discreet jewelry around her neck and around her ankle.
Her daughter Lea De Seine wore a pink dress with ruffles, an orange purse, and pink sandals that she paired with pink socks.
By the way, this is the first time that Irina was photographed in such shoes since she mostly wears high heels for a walk with her heiress. Let us remind you, Irina arrived from Provence in France a few days ago where she spent three nights with the American rapper, who is currently divorcing Kim Kardashian after 7 years of marriage.
The lovebirds celebrated Kanye's 44th birthday there, and the villa they rented was closed to the public during those three days.
In the exclusive photos obtained by the Daily Mail, the newlyweds can be seen during a romantic walk in Provence, where they stayed together in a luxury villa spread over more than 600 hectares of land, called "Villa La Coste".
It seems that Kanye is already having feelings towards Irina because he chose to spend his special day with a beautiful model in a place that is so close to his heart since he adores France and keeps coming back there. His wedding to Kim also took place in France, where they spent a lot of time together at the beginning of the relationship.
The rapper and the model were then photographed getting off a private plane in America, after which Irina was photographed running into her building in New York with her face covered.
Kanye and Irina have collaborated several times in the past. In 2010, Irina appeared in the video for West's song "Power" in the role of a golden angel. She seems to have left an impression on the rapper at the time, as he mentioned her in the lyrics of his song "Christian Dior Denim Flow".
In 2012, Irina modeled for Kanye's fashion brand at the Paris Fashion Week. The model is a fan of the West's brand, so last month she was seen wearing a T-shirt with his signature.
Also, Kanye's friend shocked everyone when he discovered that the rapper and the model were dating before Kanye started a relationship with Kim Kardashian.
By: Olivia J. - Gossip Whispers