Gerard Butler keeps coming back to her, and she's been trying to calm him down for the seven turbulent years
Gerard Butler and Morgan Brown have been in an unstable relationship for more than seven years, but they have calmed down a bit lately, and the paparazzi have now filmed them walking along the beach holding hands.
News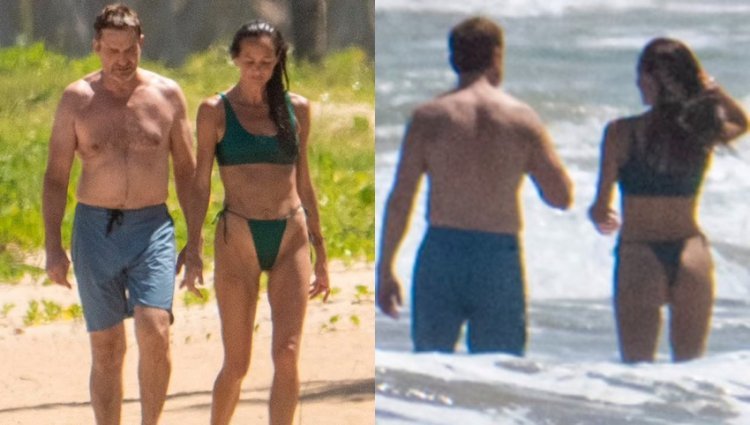 Photo Credits: TheImageDirect
Actor Gerard Butler, 51, was photographed on vacation in Puerto Rico with his girlfriend Morgan Brown, 50.
The paparazzi caught them on the beach, and she captivated the eyes in a miniature thong bikini.
It seems that the bad period is behind them and that in their relationship roses are blooming again because they were filmed holding hands.
By the way, Brown and Butler have been in an unstable, but also very passionate relationship for seven years, and they probably don't even know how many times they broke up and reconciled, however, lately they have calmed down a bit. They were first seen together in 2014, and have been photographed many times since then during passionate moments.
Interestingly, a source close to the couple in August 2020 said they broke up. "Gerard couldn't settle down with Morgan and dedicate himself to their relationship. It's better for them to continue as friends," he said.
The actor was subsequently filmed in Mexico in the company of an unknown girl and it was rumored that he had found another, but he didn't seem to be able to last long without Brown.
Butler, who is known as a sworn bachelor, used to date actress Madalina Diana Ghenea in 2013 but admitted a year later that he failed to find the right girl for himself. He was also linked to singer Rita Ora and TV star Brandi Glanville, but he did not confirm the connection.
Butler said it was hard for him to be in a relationship, especially because of the work he does and the constant presence of the media.
"No one said I only had to have one relationship in my life. Maybe I was destined to be with a few girls in shorter relationships," Gerard concluded in an interview a few years ago.
By: Amber V. - Gossip Whispers