Giorgio Armani Makes A Tribute To Ukraine
Giorgio Armani held his fashion show in Milan in silence, as a sign of solidarity with people who are going through difficult moments.
Fashion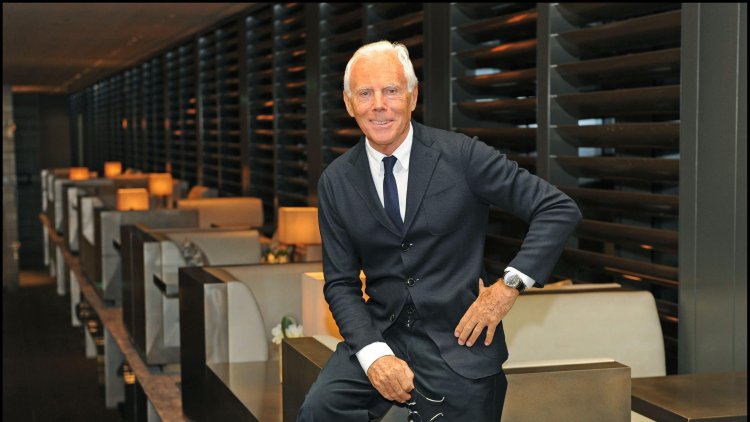 Photo Credits: shutterstock
On Sunday, Giorgio Armani held his fashion show in Milan in silence, without music, as a sign of respect and solidarity with people who are going through difficult moments in the Russian-Ukrainian conflict. The models walked the catwalk in eerie silence interrupted only by the applause of the audience. Armani thus became the first designer to pay tribute to the people of Ukraine with his fashion show.
"The only thing we can do is send a message that we do not want to celebrate while something so terrible is happening around us", said the 87-year-old designer, visibly touched.
Female and male models presented the autumn/winter 2022/2023 collection. The famous designer presented new models of dresses and blouses as part of the fashion show, and long white overalls and floral prints stood out. Armani's fashion show traditionally closes Milan Fashion Week, which was held mostly live this season, instead of through digital presentations as before due to the pandemic. Prada, Gucci, Dolce & Gabbana, and other fashion houses also took part.
Giorgio Armani's collection was completed a few weeks before Russia invaded Ukraine on February 24, but there was softness and serenity in the silhouettes of his creations that echoed the silence of their surroundings. The collection showed elegance through reduction. The light silver cut oscillated in vivid gray in garments accentuated only by the subtle shimmer of the crystals. As the models walked, silk skirts lightly wrapped around their ankles, and layers of fringe decorated with beads rustled in a space that echoed silence.
The cuts and dresses constructed in checkered prints and inlays evoked the style of the 1930s, a symbol that is repeated this season. This motif reflects Armani's way of thinking during the collection design process, which was undoubtedly influenced by the escalating fear of conflict, which culminated in last week's invasion.
For Armani, however, wartime is not just a reference, but also a memory. Born in 1934 in Italy, Armani was eleven years old when World War II ended. He survived the war, and the tolerance, diplomacy, and elegance that embody his life's work are the products of a mind resulting from the consequences of war.
In addition to Armani's verbal statement and gesture of silence at Milan Fashion Week, his collection also has a quiet, poetic dignity. In February 2020, his brand was the first to cancel the show out of caution over Covid-19. Two years later, as the oldest designer in the fashion industry, he once again showed the sensibility and responsibility that will become part of his legacy as a man with a heart in the right place.