Easy Way To Determinate Your Face Shape & Hairstyle
Fashion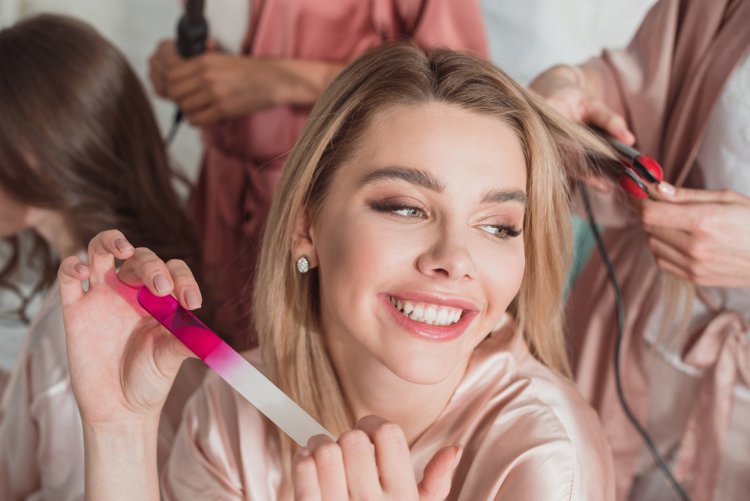 Photo Credits: DepositPhotos
You've read about concerns, hacks and styling but today we are going back to basics!
Face shapes to help you figure out what hairstyle and cut would be the perfect match for you.
We've taken some suggestions and put together into this article.
First, you'd need to determine your face shape, so you could find easily the hairstyle suitable only for you.
Basically there are 4 face shapes that you could belong to, or maybe you lie somewhere in between.
Those are oval, round, heart and square.
Oval Shaped Face
Those with an oval face should definitely consider themselves to be super lucky. You're the one that can spot just any hairstyle or cut, ranging from a cute bob to layers and even rock a sexy fringe! If you prefer short hair then try a blunt bob or lob with subtle layers at the bottom to add some volume and frame to your face.

But if you prefer longer looks, then you can go for a light step cut and follow the natural parting of your hair when you're opting for any kind of hairstyle. Loose curls or beachy waves would look amazing on you. If you prefer your hair out of your face a simple side braid could do wonder to accentuate your features!
Round Shaped Face
A round face typically means the width and length of your face is pretty much the same and your cheeks are prominent giving you a rounded appearance. Now, the key to styling this shape is to frame your face well and create depth and contour by using haircuts that frame the face - if you want to make it appear more chiseled and oval. If you prefer short hair and you're feeling a little adventurous then the pixie cut would be the perfect hairdo for you! But don't worry if you want to play it safe and subtle long layers look equally good - just make sure you cut the shortest layer right below the cheekbones, to add a natural contour and frame the face very well.
Even a short fringe that ends just at the eyes or side swept bangs would suit a round face and give it more length!
You can give yourself a quick blow dry to add some style or even throw on some accessories to one side of the head to give the illusion of a longer face. But I would definitely stay away from tight tonged curls, as they make your hair appear shorter and they will give you a rounder appearance!

Check out Dakota's new bangs, the kind that we are mentioning in this article.
Heart Shaped Face
If you have a heart shaped face your bone structure will feature a broad forehead and cheekbones and a slimmer jawline and chin. The aim here is to bring about some sort of balance between the two halves by adding on the right haircut and style. If you prefer short hair, opt for a long bob that ends at the neck would look amazing on you. It will immediately add more fullness to the jawline. You can even pair this with side bangs to make your forehead look slightly narrow and even out the shape of the face. For longer hair, textured cuts and layers through the bottom half of the hair also do the same trick adding width to the jawline. Also it will make your face to appear naturally fuller.
When you leave your hair open loose curls or waves will really bring out your features.
Square Shaped Face
If you have extremely strong features then you have a square shaped face. A broad forehead, wide cheekbones and an extremely sharp jawline, so make the most of it! - The haircuts & styles we're going to reveal will essentially soften the appearance of these features and give you a more flattering appearance!
If you going for short hair then textured bob and even side bangs are going to express your beautiful cheekbones. If you want to keep your hair long, then layers towards the ends is going to help glow up some of your shape features. I suggest going for a side parting instead going for the middle parting to throw out completely that square look. You can add a little bit of texture with some loose beachy waves. If you want your hair out of your face, a nice top knot will add some length to your face, but make sure to leave some few strands of curls on either side to add an elegant touch.

Hopefully you figured out your face shape by now! All I can say is be bold and experimental with your hair choices.

Until the next time - stay glamorous!