"Luca": A sweet love letter to Miyazaki!
When you have a story about a sea monster who wants to ride a "Vespa", drink espresso and eat pasta with pesto, go to school, race, and look through a telescope - it's easy to label him a "metaphor of inclusion". But "Luca" is much more than that.
Movies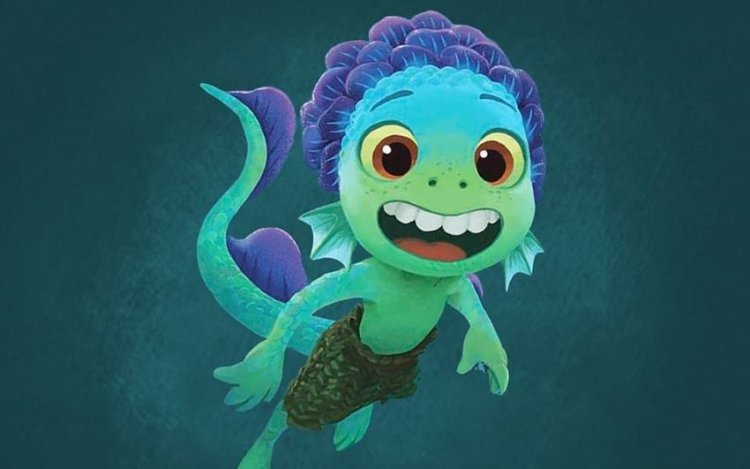 Photo Credits: imdb.com
A decade after "La Luna", Enrico Casarosa's feature-length animated debut finally landed on the Disney + streaming service. And fortunately, the coming of age drama "Luca" is all that the director's instant fans could wish for. Among other things, another wonderful love letter to Miyazaki, but also to Italian authors like Federico Fellini who mean life to Casarosa.
Shepherd who lives life to the fullest
To celebrate the studio's 35th birthday, Pixar chose a title that is far from revolutionary, but whose lovely spirit and softness of emotion absolutely fit such a beautiful occasion. And indeed, "Luca" is such a warm and unpretentious film, that after the last philosophical experiment by Pete Docter, the Oscar-winning "Soul" (2020), it may seem even too simple. However, simplicity should not be confused with low quality. It is very difficult to be simple, simple-minded, honest, and effortless - and Casarosa in the animation "Luca" is like that.
The director's feature debut is a kind of quasi-autobiography: the plot takes place in the 1950s (the timeline is not clearly indicated, but the decade can be located through cinema posters like Fellini's 1954 film "La Strada") in a fictional Italian place similar to the one in which Casarosa grew up. In the animation "Luca", the director called it Portoroso, making a small tribute to Miyazaki's anti-fascist masterpiece "Porco Rosso" (1992), whose plot takes place in the 1920s in Italy.
The story revolves around Luca (his voice is provided by Jacob Tremblay from the movie "Room", 2015), a curious and imaginative sea monster, whose inconceivable desire to explore the mainland is hampered by fear of his parents (the great Jim Gaffigan and Maya Rudolph). His mother and father also forbid him to from going out on dry land, for fear that we(humans) might hurt him - land monsters.
But, of course, with all these strong prohibitions, panic, and by reducing a beautiful world of imagination to spending all day tending to the sea fish-sheep (24 of them more precisely), there will be someone who will "spoil" the shy and obedient Luca and push him to listen to his own instincts. That someone is also a sea monster. His name is Alberto (Jack Dylan Grazer from Guadagnino's mini-series "We Are Who We Are") and he is an orphan, so there is no one who could stop him from going ashore every day and having fun on his own.
Fisherman's daughter
You've got the point: with Alberto, whose character is based on a director's friend who always pushed him as a child to try new things, to grab the wheel of his own life, to dare to go on an adventure - Luca will leave the safety of the underwater home and explore our world. Ice cream and pasta with pesto will be waiting for him there (tons and tons of ice cream and pasta with pesto), and one polished "Vespa" will smell like him and Albert at large.
In order to be able to buy a "Vespa" and set off on a trip around the world, the boys sign up for the "Portoroso Cup". The biggest annual race in town has long been the obsession of their new friend Julia (Emma Berman), the sweet and freckled daughter of local fisherman Massimo (Marco Barricheli). However, every year the main prize is won by one and the same guy: Ercole Visconti (Saverio Raimondo), a budding slob who behaves in a way that even the most famous stars of "Le Mans" would never behave. And of course, from the start, you will enthusiastically support three new friends taking over his title. But, in the end, Ercole will even turn out to be the smallest obstacle on the way to winning the "Vespa".
A much bigger problem will arise after Luca, with those huge dreamy eyes, simply falls in love with Julia's books. After discovering astronomy, Da Vinci's inventions, the animal kingdom, fairy tales like "Pinocchio" ... And instead of traveling around the world on a "Vespa", he wants a trip around the world in his own head, behind a school desk.
Borat uncle
When you have a story about a sea monster who wants to ride a Vespa, fly a plane, drink espresso and eat pasta with pesto, read books and go to school, race and look through a telescope - it's easy to label him a "metaphor of inclusion". especially in an age of boring political correctness. "Luca" is certainly a fairy tale about those who are different and a society that rejects them just because they are; which he does not understand, nor has he had the opportunity to realize that kind of diversity.
Again, this is why Casarosa's film qualifies for the "simple, but by no means simplistic" section: "Luca" is also a universal coming of age story; and crazy slapstick comedy; and a sweet adventure at the core of which is a friendship similar to the magic from the famous "Stand by Me" (1986); and a beautiful love letter to the director's fascinations: from Miyazaki to the entire Italian culture and the entire opus of "Pixar".
Like most Pixar people, "Luca" is filled with Easter eggs and references to past and announced films, but also pop culture, which this time for a reason is mostly focused on the legacy of Italy. Although, it's not that Casarosa didn't manage to give a nod to "Borat" through the supporting character of Luka's uncle Ugo, to whom Sacha Baron Cohen lends his voice!
Italian references are certainly in the foreground, so Juliet's and Massimo's cat was named Machiavelli, and the suspicious look and mustache are copied from the portrait of the great Italian thinker. The homage to Fellini and Marcello Mastroianni was taken care of by several prominent film posters, but also dreamy film segments that illustrate the fireworks in Luca's head when he discovers something fascinating about "land monsters".
There is also that small nod to Carlo Collodi for "Pinocchio", through the streets in Portorosso named after famous Italian authors, the national dishes, that irresistible Mediterranean atmosphere that only places on the most famous "boot" on the planet can have ...
And no less important, what will you learn best if you speak Italian: "Luca" is full of word games and wonderful linguistic homage to the country from which the director comes. It is a real pleasure to hunt them down in the script of Jesse Andrews and Mike Jones and to rediscover their beauty in the mirror of Luca and Alberto's (mis)understanding of their precise meanings.
Penetrating impact
In the visual sense, with Casarosa's desire to show love and respect to great minds like Miyazaki, of course, "Luca" turned out to be a film visually much closer to the "Ghibli" studio than "Pixar". It is easy to recognize Miyazaki's material, from "Ponyo" (2008), to "Kiki's Delivery Service" (1989), but it is not just about the marine ambiance or the way the protagonist is channeled, but also about the theme itself and the simple way one very serious subject is filtered through a fantasy that haunts all the senses.
And in character design, most notably Luca's, fisherman Massimo's and the boy's parents (stealing every second of the show; their "immersion" of children is one of the funniest segments of the film), Casarosa is much closer to other studios like Aardman Animations and Ghibli, than to the parent company.
Again, it is fair to say that the animation "Luca", despite all the beautiful homages and good intentions, misses the label "Miyazaki". Hayao is much darker, braver, and more inventive, and so were the films of his animation haven, beyond that last brook "Earwig and the Witch" (2020) which was directed by the maestro's son Goro, famous for his constant pretense to "Ghibli" needing to switch to computer animation and get rid of the hand drawing that Hayao insists on so much. It was far away ... "Luca" is a beautiful indicator of Miyazaki's penetrating influence on the entire planetary animation, and proof that films that target the heart and pure emotions still have something to look for in that world.
We did not receive an invention from Casarosa as from the best animation of this year "The Mitchells vs. the Machines "(2021), nor philosophy as from" Soul "(2020), but it is a wonderful coming of age story that invites children to dare, to pick up the day, to dream, to try, to take care of each other, to know that this world is full of evils, but also that even the greatest hatred and malice can be overcome while you have those who you love and who love you near. It's not a small success for one debut film, and one worthy love letter to Miyazaki.
Rating: 7.3 / 10
Take a look at the Luca trailer below:
By: Amber V. - Gossip Whispers