New MacBook Air M2 - WWDC 2022
Among the numerous rumors surrounding WWDC 2022 and the likely launch of the anticipated Apple M2, one of the most repeated was that it will debut with a new MacBook Air 2022, and eventually it has.
Technology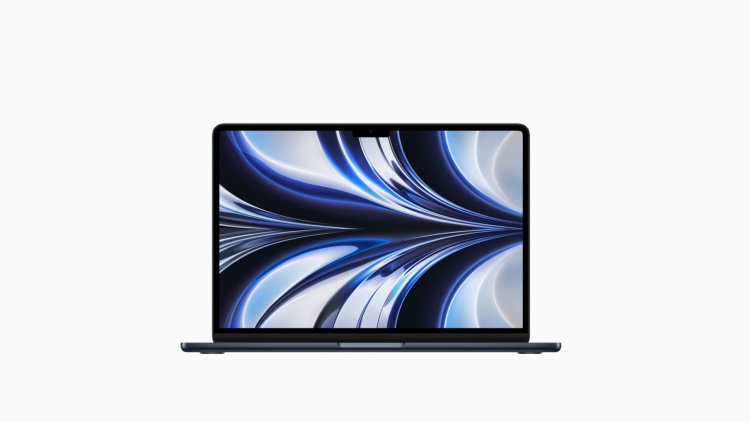 Photo Credits: Apple/Promo
As soon as we concluded the rapid assessment of the new Apple SoC's characteristics and innovations, we moved on to the first computer that uses it, the lightest and most portable of the Cupertino laptops, and the one that appears to have undergone a dramatic overhaul thanks to the addition of the Apple M2.
Starting with its appearance, Apple has managed to decrease its thickness to just 11 millimeters and its weight to less than 1.3 kilograms, quite an achievement in a laptop that, generation after generation, continues to set the norm in terms of thickness and weight reduction. And there is nothing to suggest that the Apple M2 adds 4,000 million transistors over its predecessor.
The screen is, of course, the most noticeable aspect of the MacBook Air M2 2022. In this regard, there is a 13.6-inch Retina Liquid Display panel with a brightness of 500 nits, a native resolution of 2,560 x 1,664, and a density of 224 pixels per inch, accompanied by four speakers compatible with Spatial Audio, Apple's implementation of positional sound that they introduced last year, concurrently with Apple Music HiFi. The screen is finished by a notch in the top center, which houses a 1080p FaceTime camera.
Already inside, and obviously in addition to the Apple M2 SoC, we will find configurations of up to 24 gigabytes of LPDDR5 RAM and up to two terabytes of SSD storage, all housed in a unibody chassis with only passive dissipation elements, that is, no fans, so this model will be as quiet as its predecessors, as is a tradition in the MacBook Air family.
In terms of autonomy, Apple has emphasized energy efficiency in both the Apple M2 and the equipment shown today. In this fashion, we find a lithium polymer battery with a capacity of 52.6 watts/hour, which the business claims can provide up to 18 hours of video playback in the Apple TV app and up to 15 hours of wireless web browsing via its 802.11ax Wi-Fi connectivity, which is supplemented by Bluetooth 5.0.
And, speaking of connections, the MacBook Pro M2 2022 has four: two Thunderbolt/USB 4 ports compatible with DisplayPort, a minijack connector for headphones, which also shares the spatial audio functions of its speakers, and, something that makes me quite nostalgic (in a good way), the return of MagSafe for charging, in my opinion, the best charging connection system that has ever existed. In addition, for the first time, the MacBook Air has a quick charge capability, rated at 67 watts, allowing for a 50 percent charge in half an hour, according to the firm.
The new MacBook Air M2 2022 will be available in July, with two varieties of the Apple M2 SoC, the difference being whether it has an eight-core or ten-core GPU. The MacBook Air M2 2022 with the Apple M2 with eight-core GPU, eight gigabytes of unified memory, and 256 GB storage will be the cheapest option, priced at 1,519.00 dollars. At the other end of the spectrum, the most costly model costs 3,019.00 dollars and includes an Apple M2 CPU with a 10-core GPU, 24 gigabytes of unified memory, and two terabytes of storage.