The best ice cream you can make at home
How many of you haven't eaten any ice cream this year? We found a way to enjoy this favorite dessert without leaving home.
Recipes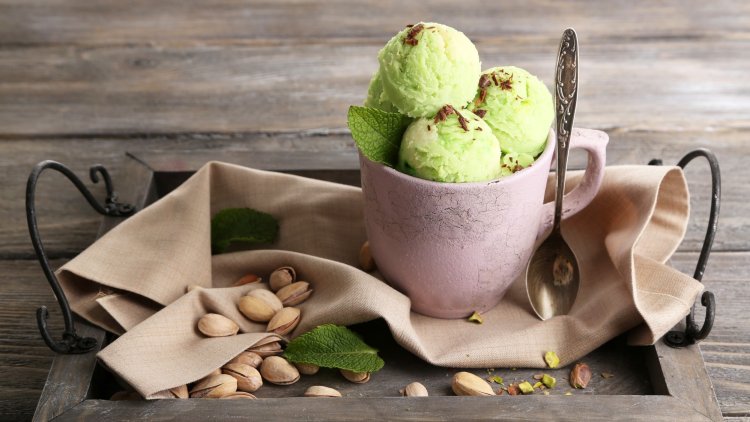 Photo Credits: depositphotos
How many of you haven't eaten any ice cream this year? We found a way to enjoy this favorite dessert without leaving home. Below we reveal recipes for delicious ice creams that you will be able to make yourself at home and you will absolutely no longer want the one you bought.
Pistachio ice cream
Pistachio ice cream is one of our favorites, so we had to try to make it at home. Rich, slightly crunchy, the seductive taste will delight you for sure.
Ingredients:
1/2 cup of sugar
1 tablespoon of cornstarch
1/8 tablespoon of salt
1 1/2 cups milk (almond, soy, rice)
2 tablespoons golden syrup (boiled water, sugar, lemon juice)
250 ml of sweet-sour cream
100 g pistachio paste (mix them in a blender, you can add very little water and sugar)
Preparation:
Combine sugar, cornstarch, and salt in a saucepan. Then add a little milk, stir, and then add the rest of the milk and golden syrup. Put the mixture on moderate heat, and stir all the time until you get a homogeneous mixture. Add the pistachio paste, stir on the hob until combined, then remove from the heat, add the sweet-sour cream and whisk with a mixer. Allow the mixture to cool to room temperature, then place in the freezer.
Chocolate ice cream and peanut butter
Oh, chocolate and peanut butter - no better combination! If you are a fan of peanut butter, and even dark chocolate, you will want to try how salty pretzels decorate this mixture and play with flavors.
Ingredients:
2 bars of dark chocolate (70% cocoa)
2 cups of milk
1 cup of sweet-sour cream
1/2 cup of sugar
1/4 cup of brown sugar
2 teaspoons of vanilla extract
3 teaspoons of cocoa
A pinch of salt
1/4 cup of peanut butter
1/4 cup of broken pretzels
Preparation:
Stir the chocolate in a pan at a moderate temperature until it becomes a smooth mixture. In a separate pot over medium heat, mix milk with sour cream, sugar, brown sugar, condensed milk, cocoa powder, vanilla, and salt. Stir for 1 or 2 minutes until the mixture is combined. Add the milk mixture to the previously melted chocolate with a ladle and mix until the mixture becomes smooth. Repeat this process until you mix half of the milk mixture with the chocolate, then add the other half at once and stir. When it cools down to room temperature, add peanut butter and pretzels and whisk everything together, and put in a blender. Put everything in the freezer.