Recipe for creamy Dalgona coffee
Dalgona coffee is currently the most popular coffee on the Internet
Recipes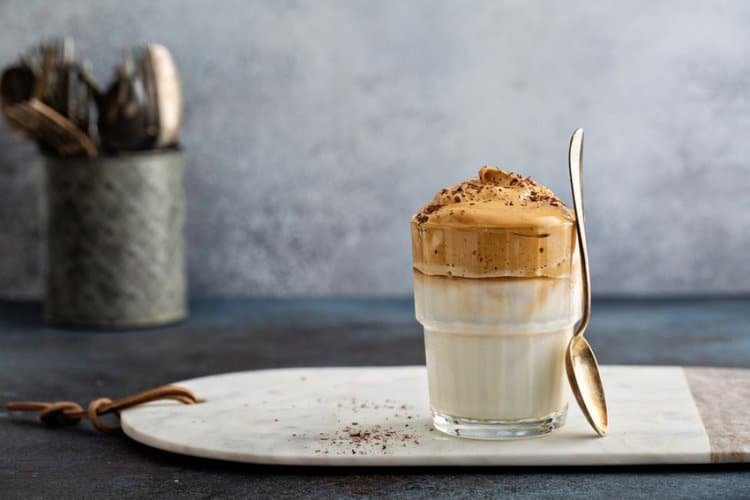 Photo Credits: Shutterstock
Dalgona coffee has been popularized on social media during the COVID-19 pandemic, when people refraining from going out started making videos of whipping the coffee at home, by hand without using electrical mixers. This is how you can make the most delicious coffee by yourself.
Make foam from instant coffee and enjoy the coffee variant you like best.
Ingredients:
2-3 tablespoons instant coffee

2-3 tablespoons of sugar

half a cup of water
You will also need:
1 teaspoon cocoa

warm milk

cold milk

ice
Preparation:
Mix coffee and sugar in a bowl, then stir with a whisk. Then add a little water, and vigorously whisk. Add a little water to be able to combine everything nicely. When you get the fluffy foam-like mixture then you're done.
The first variant: Pour warm milk into a cup and then add 3 scoops of foam spreading it on the top with a small spoon and your coffee is ready.
Another variant: Mix 3 scoops of coffee foam and a teaspoon of cocoa and combine nicely. Pour warm milk into a cup and add the mixture. Mokacino is done.
Third variant: Pour ice into a cup and pour cold milk over it. Add 3 scoops of coffee foam and your ice coffee is ready.
Read Next: Better than chocolate? A recipe for a chestnut spread that disappears from the jar at lightning speed.
By: Helen B.