'Trump is a stupid peasant, Leno is not funny, and Jeniffer Aniston has the strangest hands I've ever seen' says diva Joan Collins
Collins defended herself from sexual predators by hitting them with her knee in the crotch
News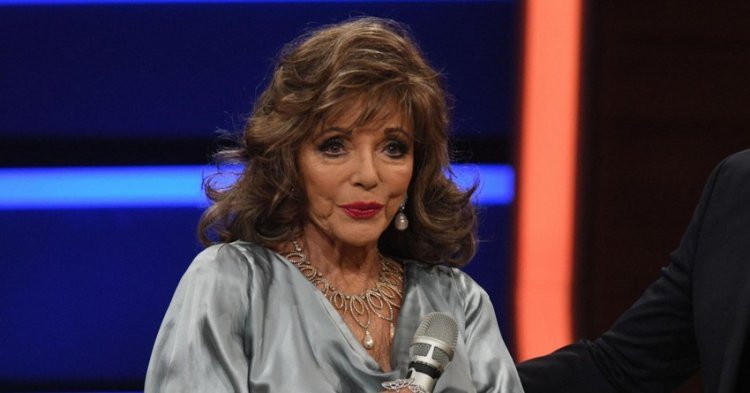 Photo Credits: AFP
Hollywood diva Joan Collins (88) revealed a shocking secret in her latest autobiography, which is not a secret at all - because she opposed the slander of slimy producers, she lost her role in the film.
In an autobiography called "My Unapologetic Diaries," she recalled a time when Hollywood producers, like Darryl Zanuck holding a golden cast of his penis on the table, could abuse actresses without consequences.
In an interview with Corriere Della, Serra Collins claims that she never agreed to sell her body in exchange for a film role, so she lost the role in the film Cleopatra (1963), which eventually went to Elizabeth Taylor.
Collins defended herself from sexual predators by hitting her knee in the crotch.
"I think I was one of the first feminists when that term wasn't a dirty word yet," Collins said modestly, "I wanted to live freely as a man."
Collins has thus once again revealed to a public secrets about the abuse of actresses in Hollywood, which the media started to be interested in when the accusations against producer Harvey Weinstein started.
In a lengthy interview, Collins further reveals that she is not ready for retirement and that in addition to the diary, she is also working on a new autobiographical documentary produced by the BBC: "Age is a number, and mine is not on the list," she jokingly replies.
The actress, who has been in show business for seven decades and who has watched many colleagues die, is nevertheless aware that old age is not pleasant.
"As a girl, I thought Frank Sinatra was the best. It's sad to watch people approach death," Collins said.
Sinatra was suffering from dementia, and Collins remembers him today as a confused old man who acted like a child, interrupting others as they spoke, and questioning if it was time to go home.
"Age is a topic that always causes a certain amount of discomfort. A mixture of sadness, pity and memory when these people were in their prime," the actress admits.
Collins touched on many topics in her diaries, and given that she is a person who often says what is on her mind without mincing her words, it is especially interesting to see what she thinks about famous and influential people.
She described comedian and talk show host Jay Leno as "one of the least funny and least attractive men in America," and former US President Donald Trump as a "stupid peasant."
For actress Jennifer Aniston, she said she has "the thinnest hands she has ever seen", and for Cara Delevingne, she is "an extremely free girl".
Although she talks about many without hesitation, there are still a few people she doesn't want to say what she thinks about.
"I think they've been getting enough attention in the press lately," she coldly answered when asked by reporters what she thought of Harry and Meghan Markle.
The famous British actress reveals that the reason why she stays away from social networks is the fear of "cancellation", that is, she is afraid that she will become a victim of the so-called cancel culture.
The actress reveals her political views in a column she writes for the conservative British newspaper Spectator, and in an interview, she also reveals that she "currently supports the Tories" and sees no reason why the situation in Britain, where the lack of truck drivers is causing supply chain problems and rising prices, shows so dramatic.
"We can't all sit and suffer. I believe that life is a feast and that the dumbest die of hunger," Collins replies in the manner of a Hollywood diva.
By: Olivia J. - Gossip Whispers