Kim Kardashian arrived with her children to listen to Kanye West's new album
Regardless of their ongoing divorce, Kim Kardashian has supported the promotion of her estranged husband Kanye West's new album 'Donda'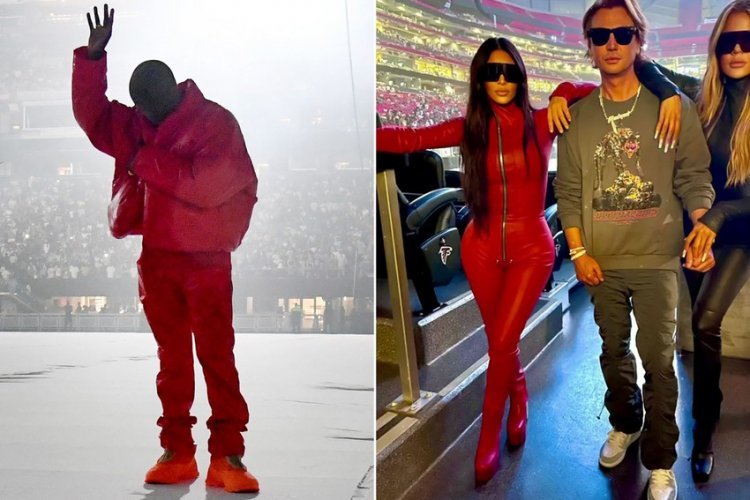 Photo Credits: Getty Images; Instagram
Rapper Kanye West (44) premiered his jubilee 10th album "Donda" this Thursday at the Mercedes-Benz Stadium in Atlanta.
The album was supposed to be released on July 24, 2020, but was postponed due to the rapper's sudden and unsuccessful candidacy for U.S. president. The entire event has now been broadcast via Apple Musicam, while the stadium itself can accommodate 71,000 people.
Kim Kardashian, 40, came to the stands to support her ex-husband, who filed for divorce at the beginning of the year after a 7-year marriage. The 'Keeping Up with the Kardashians' star also took the four children she has with the 44-year-old rapper, 8-year-old North, 5-year-old Saint, 3-year-old Chicago, and 2-year-old Psalm to the event, and in the audience, people also noticed her sister Khloe Kardashian.
For a family outing to promote her estranged husband's new album, Kim wore a red jumpsuit and red boots, and the couple whose divorce is ongoing seems to have coordinated their outfits as Kanye appeared in front of the audience in a red suit and red Yeezy 1020 sneakers on his feet.
The album 'Donda' is named after Kanye's late mother Donda West, who passed away in 2007 at the age of 58 from complications after plastic surgery.
After a very challenging year for their relationship, Kim filed for divorce in February, and an informed source told People magazine at the time that the reality star did not intend to remove the rapper from their children's lives.
'She made it clear that Kanye can talk to their children whenever he wants,' the source said.
For Father's Day, Kim paid tribute to all the amazing dads in her life, and among the photos of her late father Robert Kardashian, her brother Rob Kardashian, Caitlyn Jenner, Scott Disick, Tristan Thompson, and Travis Scott, there was a photo of Kanye West, with a message: 'We love you unconditionally!'.
While their divorce is ongoing, Kim and Kanye appear to have a unique relationship, so according to one source, the former couple spent family time together with their children.
Ever since he broke up with Kim, Kanye has been linked to Russian model Irina Shayk.
The two were spotted in June celebrating Kanye's birthday in France, and a source told People at the time that they had known each other professionally for years, but also that Kanye had started chasing the famous model a few weeks back.
Rumors surfaced last week that they had cooled the relationship, but a source claimed they were still together. Also, the same source said that Kim has nothing against Kanye's going out with other women and that she only wants her ex to be happy.