Netflix's new series: "Pokémon Concierge"
Netflix presented its new series and the trailer will win you over.
News
TV Shows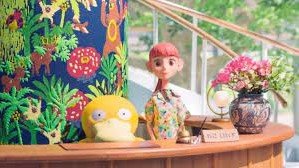 Photo Credits: Promo
A few days ago, Netflix presented the first trailer for its new series about Pokémons, and it is a beautiful, stop-motion animation (frame-by-frame) titled "Pokémon Concierge", in which everything is subordinated to Pokémons and their relaxation and happiness.
The trailer introduces us to Haru, who just arrives at the resort to find out that her job is actually to make sure the Pokémons feel comfortable and relaxed. In the process, she meets Pokémons she never thought she would meet, and one of her closest ones becomes Psyduck. At the same time, Haru is worried about how she will really help the Pokémons when they can't tell her how they really feel, to which her colleague replies that not even humans do!
Along with hanging out with new Pokémons, Haru will discover more and more about herself and feel happier. In the announcement, we also see a bunch of famous Pokémons, including Pikachu, Eevee, Dragonite, Magikarp, Bulbasaur, Snorlax... and many more are waiting for us.
"Pokémon" is one of the most popular Japanese franchises in the world. First launched back in 1996, it has gained a lot of fans over the years - now it's several generations, and everyone has a common passion for these creatures that we find in card games, various memorabilia, animated series, and movies.
The director is Iku Ogawa, the screenplay is made by Harumi Doki, and the song in the "Have a Good Time Here" trailer is sung by the popular Japanese singer Mariya Takeuchi. In the original Japanese version, the main characters were voiced by Rena Nōnen, Ai Fairouz, Okuno Eita and Takemura Yoshiko, and in the English version by Karen Fukuhara, Imani Hakim, Josh Keaton and Lori Alan.
"Pokémon Concierge" will arrive on Netflix on December 28 with four episodes in Japanese and English versions.
NEW: https://tvexposed.com/netflix-canceled-five-hit-series
Post by: Vanessa F.