Rolled chicken - an amazing idea for lunch!
If you still haven't figured out what to make for lunch, we have a great idea! Check it out! Rolled chicken with ham, bacon and spinach!
Recipes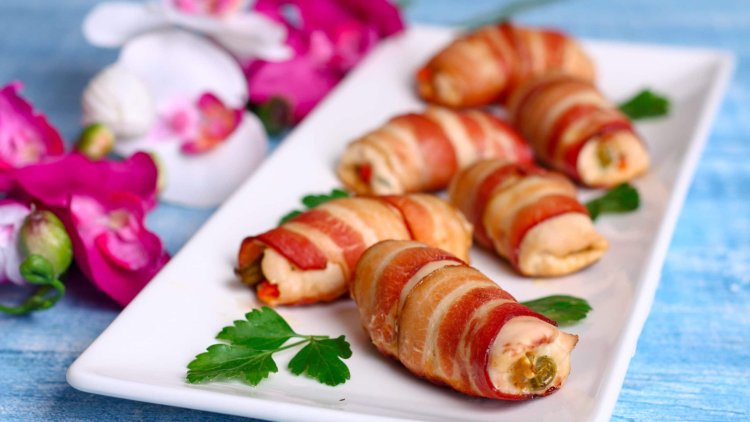 Photo Credits: shutterstock
If you still haven't figured out what to make for lunch, we have a great idea! Check it out!
Ingredients:
2 pieces of chicken (boneless)
200 g of thinly sliced ​​meat bacon
60 g thinly sliced ​​ham
60 g of thinly sliced ​​cheese
baby spinach leaves
to taste spice for chicken
to taste ground pepper
Sauce for all types of roasted and fried meat:
180 g sour cream
100 g of mayonnaise
4 tablespoons grated rhubarb
3 tablespoons ground almonds
100 ml sour cream for cooking
to taste ground white pepper
Preparation:
First, prepare the chicken rolls: From the chicken meat, form two larger and thinly sliced ​​steaks (the ingredients are given for two chicken rolls). Put half of the bacon over the aluminum foil in one row, slightly overlapping them. Put sliced ​​steak over the bacon, sprinkle it with chicken seasoning and ground pepper to taste. Put two pieces of ham, a piece of cheese, and baby spinach (determine the amount of spinach according to your taste) over the chicken stew, again two pieces of ham and a piece of cheese. Using foil, wrap everything in a roll.
Transfer the formed roll to a suitable container over baking paper. Repeat the same procedure with another steak of meat.
Preheat the oven to 200 degrees. Put the meat to roast until the bacon is browned, about 35-40 minutes. Serve this very tasty roll with a sauce that goes with all types of meat.
Now we move on to preparing the sauce, which tastes perfect for all types of meat: Put sour cream in a suitable bowl and whisk it with a fork. Add mayonnaise and combine with sour cream. Add horseradish, almonds, and sour cream for cooking. Stir everything well to combine the ingredients. We did not add salt, but only white pepper, and you try it to taste... Leave the prepared sauce in the refrigerator to cool well before serving.
Try this amazing dish today and let us know how you like our recipe!