Stories about the songs - Jimi Hendrix
"Hey, Joe", a rock anthem whose author is still unknown...
Entertainment
News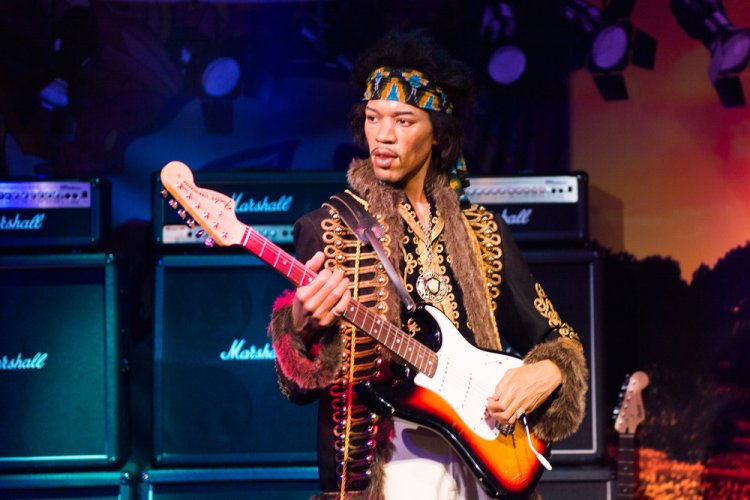 Photo Credits: Shutterstock
After Hendrix's single "Hey Joe" appeared in 1967, nothing would be the same in rock music.
When the song "Hey Joe" is mentioned, everyone immediately thinks of Jimi Hendrix, the iconic guitarist who will make this song famous all over the world and from which he will create a kind of rock anthem.
However, the tale of this tune began before Jimmy stepped foot on the British island, and "Hey Joe" rose to prominence in the mid-1960s when it was incorporated into the repertoire of the Californian group The Leaves.
However, despite the fact that it is an identical song, it has few similarities to Hendrix's rendition. In a similar arrangement, this song was released on the debut album of the legendary American group Love in 1966.
Of course, this isn't the version that will take over the world.
Chandler (Chas Chandler, the bass player of the famous group The Animals and the man who will convince Hendrix to accompany him on a trip from America to Britain, and Jimmy will agree to this only after Chas promises to introduce him to Clapton), is said to have been delighted when he heard the version, also by an American artist, Tim Rose.
Rose launched his debut album "Morning Dew" in 1967, and it included, among other notable works, "Hey Joe" in a wonderful, slowed-down arrangement that he wrote and where he also indicated that the query is conventional.
Hearing that rendition, Chandler realized that his protégé would want something similar, albeit with Jimmy's guitar skills. He was so right. Because nothing in rock music would be the same once that single was released in 1967.
The origin story of this song is even more intriguing because if you pick up one of the recordings on which it is found, under the title, depending on the artist, a different name of the author will be stated, although, on certain versions, such as Rose's, it indicates that it's traditional.
The tale surrounding the authorship of this song is pretty intricate, and it goes something like this: Chester Powers, alias Dino Valente, the guitarist and singer of another well-known band, Quicksilver Messenger Service, plagiarized the song.
Maybe it would have been that way forever if the heartless Valente hadn't gone to prison for drug use shortly after starting the aforementioned gang in San Francisco in 1965.
And in prison, you usually confess everything sooner or later.
It was also disclosed to Dino on one occasion that he was not the author of "Hey Joe," but rather a certain Billy Roberts, who was then entirely unidentified, allowing Valente to play that song all over America and claim that it was his.
Soon after, agents from the American company that protects copyrights (RIAA) went in search of Billy, and when they finally found him, he told them an almost unbelievable story about how he was once staying with his girlfriend on a wild beach when inspiration for the words of the song "Hey Joe" recorded in the sand struck him.
Of course, he afterward altered and rearranged everything, according to his words.
The most basic concern is if it is possible to create such a gem of a song without subsequently attempting to replicate and construct something even more comparable. Although Roberts filed "Hey Joe" with the Library of Congress in 1962, the song's authorship is still debated today, as Dino Valenti did the same in Los Angeles a year later.
Some allege that Roberts "stole" the chord sequence for "Hey Joe" from his then-girlfriend Niella Horn's tune "Baby, Please Don't Go To Town," which later went by the surname Miller.
She recorded a demo recording back in 1962, and the official release surfaced only in 2009 on her album "Songs Of Leaving". There are also claims that Roberts stole the title and first verse of the song from Budlo Bryant's instrumental of the same name, "Hey Joe," and that he got the idea for the lyrics from the early twentieth-century traditional "Little Sadie," which also talks about a man on the run from the law after shooting his girlfriend with a .44 Colt.
Perhaps from this, we might deduce why Roberts later failed to write anything remotely equivalent.
In any case, Hendrix will join the ranks of rock music's immortal heroes with "Hey Joe," and the song itself will become one of the most iconic rock anthems.
It's interesting how little time and money were spent on recording this piece. Chandler, in particular, considered that long-term studio work was a waste of time and money.
In this situation, Om just replicated a method of operation that had been established even earlier in his organization The Animals.
According to mythology, they spent four pounds to record their composition "House Of The Rising Sun." Who cares? The song was a worldwide smash, but we'll leave that story for another time.
Post by Bryan C.