Test: Haylou RT i RT2 Smartwatches
Technology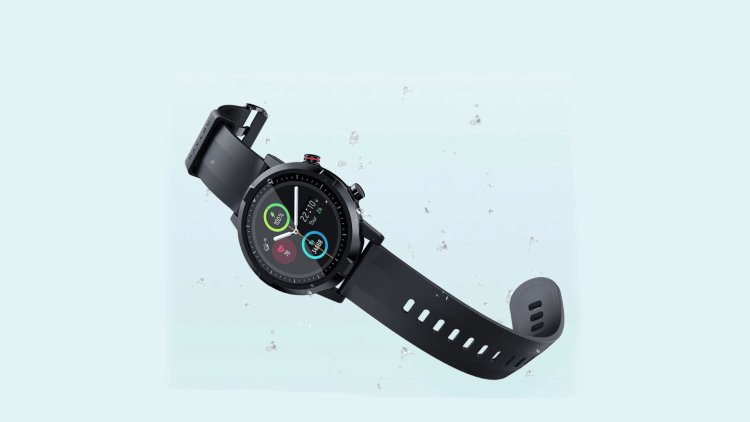 Photo Credits: Haylou/Promo
Although they have a similar name, which indicates that they are actually two generations of the same product, these are watches that do not really resemble each other. Both are in a classic round format, but the design is quite different.
Haylou RT has a metal body cast from a piece, with all the contacts for connecting the bracelet, in which practically all the electronics are inserted. At the bottom, there are two charging contacts, as well as a circular slot covered with transparent plastic behind which is a system of optical sensors.
We find two buttons on the side, and the body is covered on the top with a metal frame that fixes the screen, although we can't say that it really protects it because it is practically level with it, maybe only half a millimeter above. For this purpose, there is glass for which the type is not specified in the specifications. 
There are also stylized protrusions on all four sides of the frame, and between it and the screen, there is a scale with divisions, but without numerical markings, which is a good way to achieve the impression of a larger screen.
Haylou RT2 has a slightly more modern design and simpler look, with the construction we often see on current smartwatches - a rounded metal frame that surrounds the watch with all the accessories for connecting bracelets, which is in a dark gray gunmetal color.
Both models have interchangeable black silicone bracelets with a diameter of 22 mm with an easy-to-remove mechanism, which are very similar, with identical buckles, except that on RT there are a few protrusions and recesses on the outside and inside, while the bracelet on RT2 is smaller and almost completely simple.
What we can say is that both watches are very well made and that the workmanship and materials do not differ significantly from some much more expensive models. RT2 is a bit more elegant, and RT looks more unique, so it will depend on what you prefer.
In addition to the appearance, the biggest difference between these two models is in the screen. Both watches use a TFT or IPS type screen, but the resolution of Haylou RT2 is 360x360 pixels at 1.32 ", while at RT 240x240 it is 1.28". 
Although the RT2 is not exactly on the level of, say, the Watch GT, which has 454 pixels in both dimensions, its resolution is enough for a nice display, so much so that you don't have the impression that you're missing something in terms of quality. 
Especially since it is a screen with very vivid color reproduction, obviously from a higher-quality segment of the IPS screen for this purpose. 
On the RT model, everything looks correct from a distance, but a closer look reveals pixelation due to lower resolution, so we can say that the screen is functional and correct, but not more than that, partly due to slightly lower color saturation.
The RT2 is also slightly brighter and has correct visibility in bright daylight, while the RT requires you to pay a little more attention in some situations to see all the information.
As for the skins, there aren't too many of them, 31 on the RT2 and an interesting 47 on the RT model, although a lot of them are actually common to both watches. The impression is that the quality of analog skins is slightly better than digital ones, although in both cases it is possible to find something for everyone's taste. 
However, you can also make it digital as you wish in the Custom Dial section of the application by adding an image of your choice and choosing the font color of the predefined time and date display.
The user interface of both watches is actually identical, with small cosmetic differences, so swiping your finger left and right on the screen circulates between different widgets such as daily activity views, heart rate, and SpO2 measurements, sleep views, weather forecasts, and breathing exercises.
Swipe from above gives a status menu with quick settings, and only swiping down deviates from the usual with smartwatches and gives you a list of available apps instead of viewing notifications from selected apps on your mobile phone. 
This is not very practical when you receive a message that you want to see or at least someone who sends it but does not look at the clock before the notification disappears, because it requires you to go to the list of applications, and find the notification application and run it.
In terms of performance, we expected the battery life not to be very high, as this triangle of power, capabilities, and battery often leans to one side, but the autonomy on both models is actually very good. 
Both models are declared at up to 20 days of economical operation or 12 days of normal for RT2 or even 15 for Haylou RT. In practice, the RT2 lasted just over 11 days, while the RT consumed only 15% of the battery in 4.5 days, so it is capable of exceeding the declared, even up to 30 days, which is really impressive. 
Charging is done with a USB cable with two magnetic contacts, identical for both models. Of the applications that come with the watch itself (which is, after all, everything you will get because the installation of additional is not expected as expected), there are mostly standard things - activity and sleep overview, measurement of pulse and oxygen saturation in blood, weather forecast, sleep overview and notifications, a stopwatch, a countdown timer and the ability to control the music on your phone and find it by sound if you miss it somewhere nearby.
Measurement of the mentioned health parameters is quite correct on both models, especially considering the price range, so the data can serve as a reference or as an aid in training, especially heart rate measurement. Sleep measurement is also correct, although there is only information about deep and easy sleep and waking up during the night, not REM phase measurement.
As far as activity tracking is concerned, twelve different ones are supported, which may not seem like much compared to some models, but we have to say that there is really everything you will really need - running outside and on the treadmill, bike, and exercise bike, walking, hiking, yoga, gymnastics, strength training, rowing, basketball, and football. 
In fact, all that's missing is swimming, although both IP68 watches are waterproof, so whoever needs it will probably look for another model - for most other users, this is more than enough.