Julia Roberts in a 'Barbie' style swimsuit
Julia Roberts flaunted her 54-year-old figure and beauty on a luxury vacation getaway to Sydney with her family.
News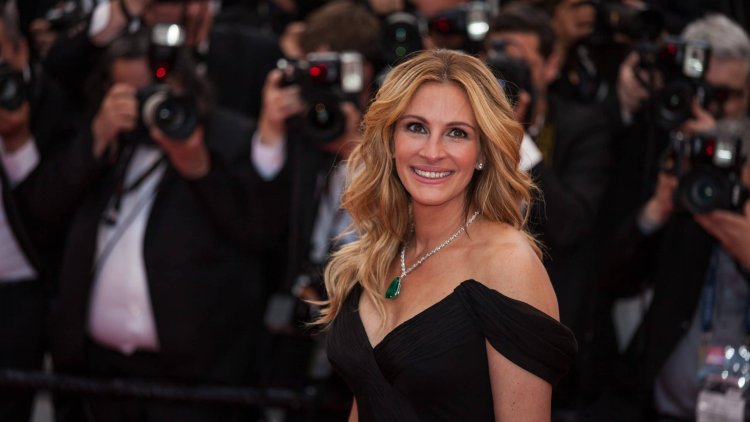 Photo Credits: Shutterstock
Julia Roberts and her family are celebrating the New Year and Christmas holidays in Sydney. She has been in Australia since October, where she is shooting a new movie with George Clooney, and she used the break to enjoy the beach with her husband Danny Moder and children. As we can see she is one of those lucky people who spend the winter in the sun, on the beach, and in a bathing suit.
Julia flaunted her 54-year-old figure and beauty on a luxury vacation getaway to Sydney with her family.
The celebrity was caught by paparazzi enjoying her end-of-the-year vacation with her husband Danny Moder, 52, and their children Hazel, Phinnaeus and Henry. Photos of Roberts (52) in a pink one-piece swimsuit have been found on all world sites, and everyone praises the form in which the actress has three children - twins Hazel and Finaeus, who are 17 years old, and their youngest son Henry.
She wore dark sunglasses, a gold necklace with a stone charm, little gold earrings.
Before leaving the beach, the Pretty Woman actress donned a navy blue patterned beach maxi dress and a colorful baseball cap. During her day at the beach, she showed cheerful and relaxed, with a makeup-free face, her blonde hair tied in a bun that was tossed in the air.
Meanwhile, her children and her husband wore casual shirts and beach shorts.
The paparazzi captured her at another time in Queensland walking with her family in a commercial area after the Christmas celebrations.
And while Julia has nothing to complain about how she looks, and from her first role until today she is always perfect, there were those who had something to comment on at the expense of her husband who looks equally good, if not better than her.
Her husband showed that he is in fit shape, with abs on which much younger men could envy him, and he also showed how skilled a surfer he is while trying out with his son on the waves in Sydney. Danny, 54, met Julia in 2000 while filming "Mexican," and they were married two years later on a ranch in New Mexico. After this, they worked together on several occasions, including achievements such as "Mona Lisa Smile", "Fireflies In The Garden" and the "Secret In Their Eyes" thriller from 2015 with Julia and Nicole Kidman.
Julia has been living in Australia for the last few months due to the recordings of her recent movie, Ticket to Paradise, in Queensland.
The celebrity has been shooting the movie with George Clooney, where they both play a divorced couple who travel to Bali to stop their daughter's (Kaitlyn Denver) marriage.
The actress moved to Australia in early October, where she was quarantined inside a mansion valued at $ 56.9 million, located in the luxurious Vaucluse area. Also, the private house that will be intended for them has a luxury pool, two bedrooms, a large entertainment room, a dining room for ten people, and an infinity pool.
Qualia Resort as well as the Papillon House on Whitsunday Island were designed by renowned architect Chris Beckingham. Papillon has seven large bedrooms and is reputed to be the perfect choice for Hollywood stars and their entourage.
Likewise, his co-star rented another property near Vaucluse to move in with his wife Amal and their twins Alexander and Ella.