LG CineBeam PF610P: Smart Features, Sound
Technology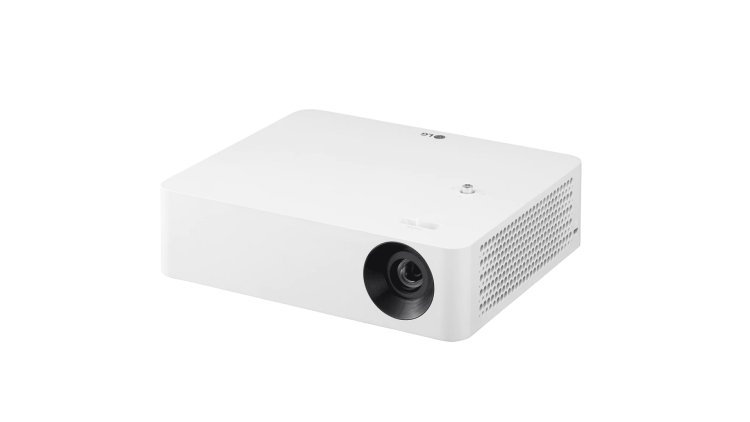 Photo Credits: LG/Promo
LG has long pushed its smart platform into the projector world, so it comes as no surprise that this feature is now present. Specifically, the PF610P received webOS 5.0, an in-house system that you may be familiar with from the company's televisions.
The menu structure is logical, the graphical user interface is transparent, and because we can choose which functions should be displayed on the main screen, it can be altered even within specific constraints.
The gadget supports Miracast, which allows the picture of compatible mobile devices to be wirelessly mirrored. In our experience, pairing is simple, and the connection is reliable, although there is some latency, making it unsuitable for gaming.
The Magic Remote motion-sensing remote control should theoretically work with the projector, but we only discovered a classically fashioned peripheral in the box, which makes the control less comfortable. On the bright side, it can be used with a USB-connected mouse and keyboard, and the remote may be activated by phone or tablet via a free mobile app.
WebOS, of course, allows direct access to a large range of Internet apps. The offer is around 200 pieces long, and it includes a variety of content distribution tools, in line with current trends.
However, we couldn't find Netflix or HBO Max among the apps, which is a disappointing shortcoming. There are numerous news sites and games available, but the latter are rudimentary, difficult to operate, and uninteresting, so they do not attract you. Of course, the browser is included because it allows you to easily and rapidly view websites.
The LG CineBeam PF610P comes with basic media player software that has a clear interface and logical design, so you won't have any problems with it even if you're not familiar with consumer electronics.
It only supports the PNG format for photos in addition to JPG. You can also start a slide show with flip-up effects and backing music, however, the program does not support processing and displaying EXIF data, which contains precise information about your photographs.
In addition to MP3 files, WMA and FLAC files may be played, ID3 tags can be processed, and lyrics encoded as metadata can be displayed on the screen.
The PF610P has two 3-watt speakers that the maker says provide excellent sound quality. However, you do not have to believe everything because the deep is scarcely heard and the end result is weak and sterile.
It is unable to generate a stereo sound field due to physical constraints. Pre-programmed sound options, as well as an equalization, are included.
Audio equipment, such as headphones, can be connected to the projector via Bluetooth without the use of cords, which is a very practical alternative. The range is 20 meters, the connection is stable, and the latency is negligible.
We had the device for two weeks and came to the conclusion that the LG CineBeam PF610P is a completely viable model. The webOS 5.0 smart TV system is ideal for management because it is incredibly user-friendly, fast, and stable.
The fact that the product provides direct access to numerous web apps is fantastic, but some critical apps are absent. There are issues with the media player's format support, thus the system is not ideal; there would be more to hammer on.
The good news is that there is a built-in sound system, so it's not a disaster if you don't have an external audio device nearby, but you shouldn't anticipate much from the sound since you'll be disappointed.
The picture quality is far from ideal, but we can't expect that from a projector in this class. However, when compared to the alternatives, it performs fairly well, as the resolution and contrast are good, the image world is fine, the colors are lovely, and there is no complaint about the motion display.
The design is entirely typical, but that isn't a problem because what matters most is that it is pretty easy to maneuver due to its size and weight. They charge $849.99 for the projector, which matches his understanding and is not considered excessive.