SK Hynix presents the Platinum P41 SSD
Technology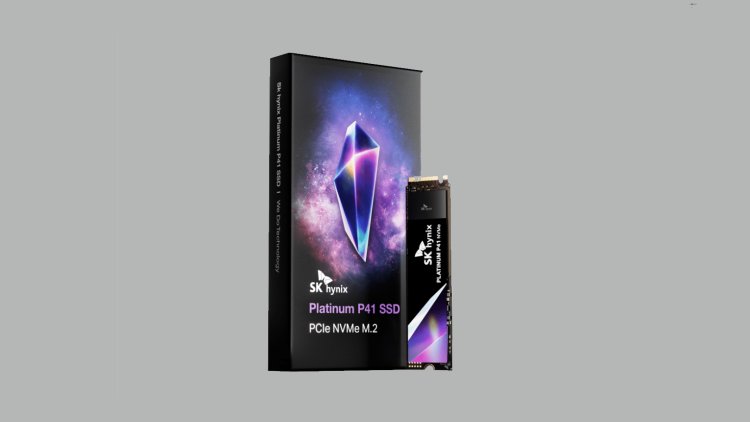 Photo Credits: SK Hynix/Promo
The Platinum P41 SSD, another addition to the collection of high-performance solid-state drives using the PCIe Gen4 interface, has been launched by SK Hynix.
SK Hynix is one of the world's largest manufacturers of NAND flash memories, which serve as the foundation for the SSDs that dominate client storage. The new Platinum P41 series is the company's top-of-the-line retail offering, aimed at gamers and content makers seeking optimum performance from their PC.
These M.2 drives are built with 176-layer NAND flash memory and incorporate the manufacturer's "Aries" controller. Connected to the most sophisticated PCIe Gen 4 interface available, it achieves data transfers of 7,000 / 6,000 Mbytes per second in sequential read / write modes and random performance of 1,400,000 IOPS in reading and up to 1,300,000 write IOPS.
An industry-leading endurance rating of up to 1,200 TBW (Tbytes Written) is one of the highlights. According to the manufacturer, these P41s go through a 1,000-hour high-temperature operating life (HTOL) test to ensure dependability and an MTBF (mean time between failures) of 1.5 million hours.
The series is available for the following pricing, with a five-year warranty and three storage capacities:
2TB: $259
1TB: $149
500GB: $104
OWC Announces Envoy Pro Mini Pocket SSD
OWC has released the Envoy Pro Mini Pocket SSD, an ultra-compact drive with great performance and full compatibility for usage in laptops, tablets, and mobile devices.
We've already seen how the benefits of SSD have spread to external storage solutions. This is a pocket-sized model with the performance and capacity of a full-size SSD for audio, photography, graphics, gaming, and general data storage/backup applications for consumers, students, and professionals.
The Envoy Pro Mini, which is about the size of a thumb drive, is compatible with Macs, Windows PCs, iPads, Chromebooks, Android tablets, and USB and Thunderbolt (USB-C) equipped Surface devices from the last 15 years.
To do this, it includes a dual connector, by default a USB Type C, but by flipping the unit over, you can use a USB Type-A to expand compatibility without the need for wiring.
The device is housed in a machined aluminum chassis that distributes internal heat and is light enough to fit in a pocket. Its performance is also exceptional, with OWC promising 946 Mbytes per second data transfer in sequential read mode.
This portable SSD may be used in both macOS and Windows environments. For the Apple platform, OWC supplies the MacDrive software, which operates in the background and allows both read and write access.
It provides functionality for formatting and partitioning drives, as well as repairing drive problems. It is compatible with Apple Time Machine and Windows File History.
OWC provides a three-year warranty on drives that are now available in the storage capacities and prices shown below:
250GB: $79.
500GB: $109.
1TB: $179.