Today we are cooking: Chicken stew
The well-known and so delicious dish is ideal for a sumptuous weekend lunch. It does not require too much preparation, it simmers for a long time and uses simple ingredients. Perfectly!
Recipes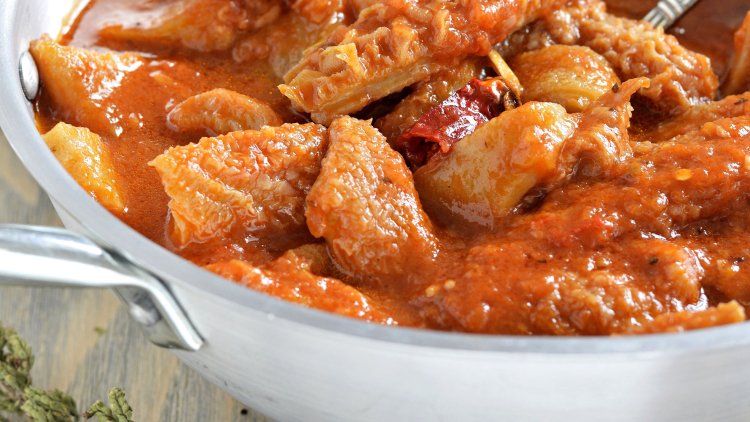 Photo Credits: Shutterstock
Ingredients that you can find at every market or store, simple preparation, and at the end, irresistible soft meat in a nice, thick vegetable sauce. Can it be better? Chicken stew is ideal for a rich and healthy lunch in the middle of the week, but it will certainly be a great choice for a family lunch on Sundays. It goes best with gnocchi, polenta or rice. All you have to do is add your favorite seasonal salad and the delicious enjoyment can begin!

Ingredients:
500 g of chicken (legs, drumsticks, larger pieces of breast...)

2 onions

3 carrots

1 small celery root

2 spoons of peel

2 teaspoons of ground red pepper

3 tablespoons of sour cream

P

arsley

Oil

Salt, pepper
View this post on Instagram
Preparation:
Season the chicken first with salt and pepper. Heat the oil in a pan and sear the meat on all sides. Take it out of the pan and add finely chopped onion to the same oil. Sauté until golden, then add grated carrot and celery. Simmer a little longer, then add enough stock to cover the vegetables. Season with red pepper, salt and pepper. Mix well, then add the meat and let it cook for about an hour. In case the stock evaporates, be sure to add more to end up with a rich sauce. Towards the end of cooking, remove the meat and part of the stock from the pan and mix it with sour cream. Grind the remaining vegetables in the pan with a stick mixer and add the mixture with sour cream. Mix well, return the meat, sprinkle with fresh parsley and serve warm.



Post By: Vanessa F.